The release of the Ford Maverick compact truck caused quite a stir in 2022. Given its extreme popularity Ford struggled to keep up with market demand. For the lucky few who have gotten your 2022 Ford Mavericks this build shows what accessories you can add to make an offroad Ford Maverick pickup build.
For this Maverick build we drew inspiration from Marty McFly's 1985 Toyota 4×4 pickup truck in "Back to the Future". The entire front end was redone to change the truck's demeanor into something with more strength and muscle. That was followed up with an all-new sport bar, KC Hilite LEDs, offroad wheels, and more. Keep reading to see details on all the upgrades and changes to this custom 2022 Maverick. If you'd rather lower your Maverick than lift it take a look at our lowered Ford Maverick street build.
A list of added aftermarket accessories.
2-Inch Lift Kit
Starting this build, we knew it would need a lift kit to give it just a bit more of truck feel. We threw it up on a workstation and installed a smaller 2-Inch lift from Rough Country to give extra height without being too excessive. These 2-inch lift kits can help your vehicle drive more smoothly across rugged road conditions without feeling too elevated or "flowy".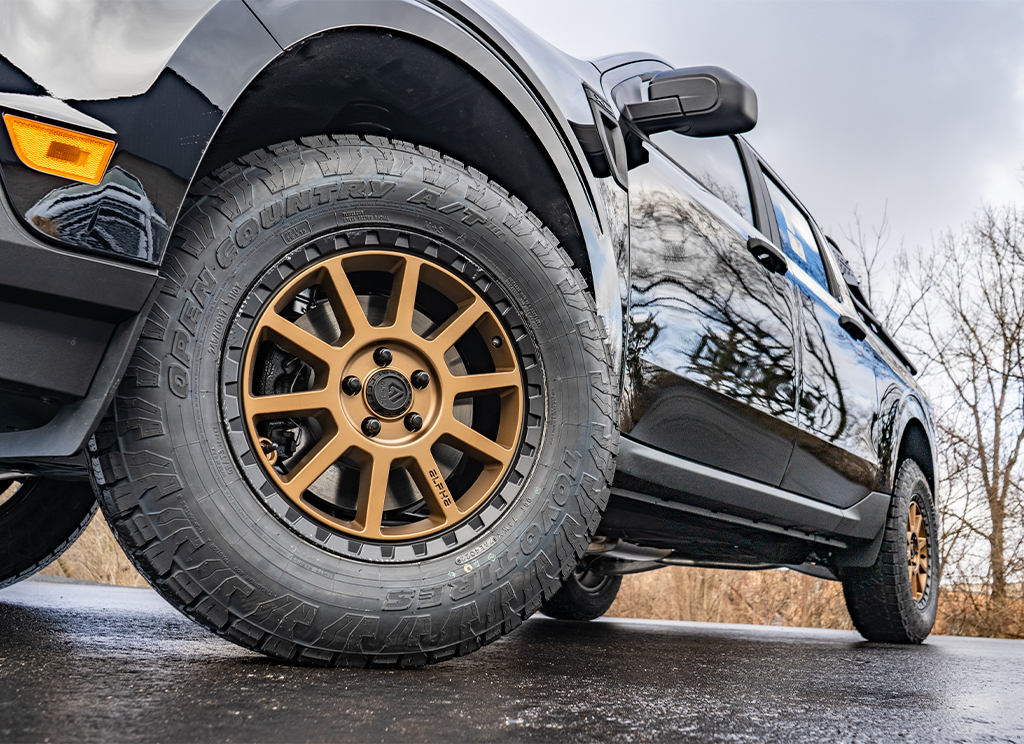 Adding this Maverick lift kit raises the ground clearance to avoid more offroad obstacles like jagged rocks. In addition, it provides more space under the vehicle to swap out wheels and tires for larger sizes for further improvements.
Offroad Wheels and Tires
To take advantage of the lift we swapped out the old wheels and tires. It was important for us to select new wheels that would give this mini truck a tougher look. We ended up with the Alpha 17-inch Foxtrot Wheel design. The sturdy brass ten spoke design delivers improved strength and style without overcompensating for the truck's smaller stature.
After we had our wheels selected, we looked for new tires that would match the Maverick's utility on and offroad. Our go-to offroad tire is the Toyo Open Country ATIII (245/70R17) since they offer a good amount of traction without heavily hindering fuel consumption. Which makes them diverse offroad tires that can dig in and travel across a variety of terrain.
Painted Calipers
Peeking out from behind the bold brass wheels are some painted calipers. It's a bit hard to tell since they're black, but we painted the calipers to add some smaller design details that tie into the body paint. This modification is also practical because the paint helps resist corrosion of the caliper over time. Painted calipers are a simple mod to make on your custom Maverick that adds to its overall appeal.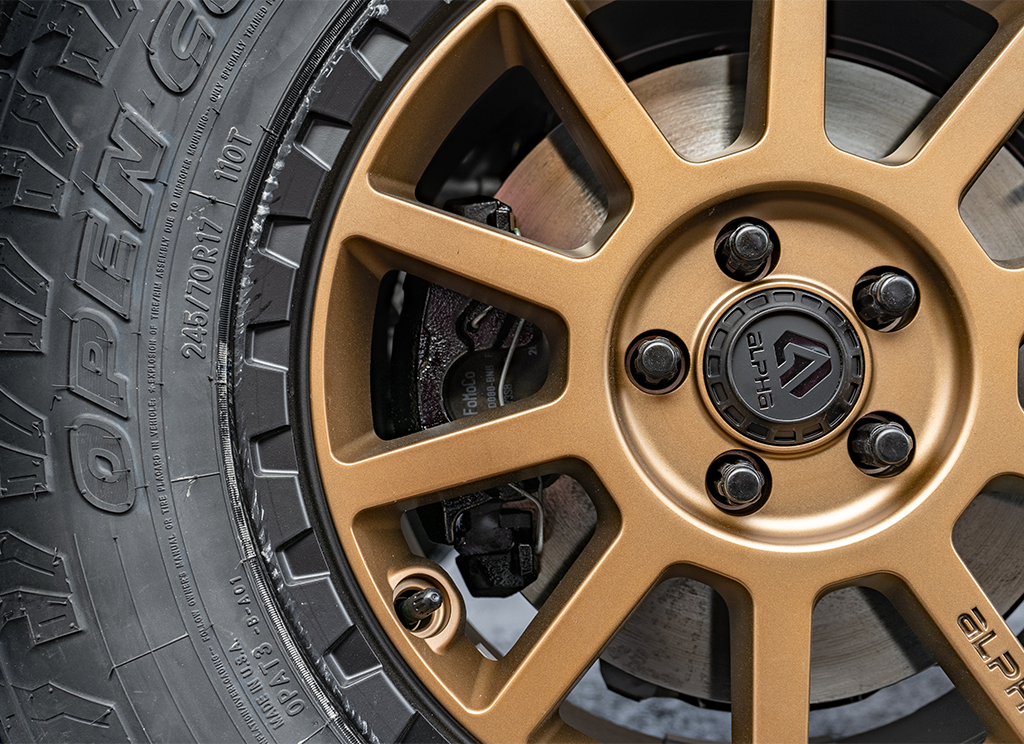 With trucks, we also recommend applying a ceramic coating to the caliper because it makes break dust, mud, and debris easier to clean while applying another barrier of protection.
Hood Scoop
We made couple of big changes to the front end on this build, the first of which being a hood scoop. This Ford Maverick hood scoop from Air Design is super easy to install without any kinds of drilling and is purely a cosmetic change. Having the hood scoop gives a tougher appearance to this modified Maverick pickup truck by bulking up the hood. With this modification it transforms from a plain utilitarian truck into a compact and bulky offroad machine.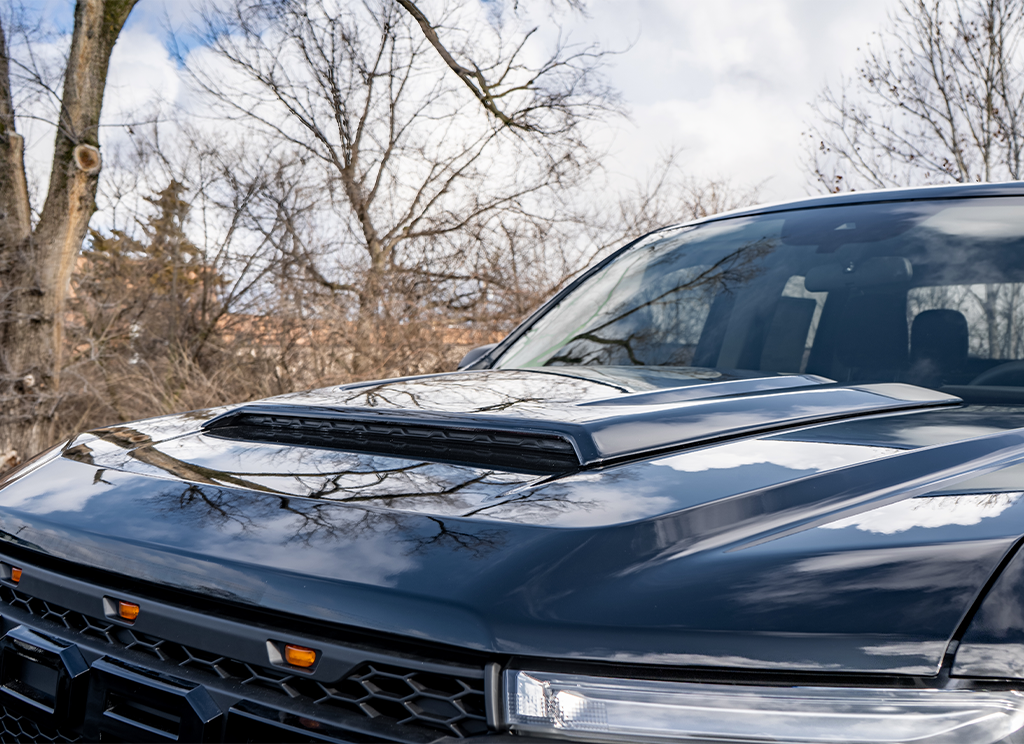 Custom Grille
You may have noticed this lifted Ford Maverick has a completely different grille compared to its standard version. We swapped the original grille with a tighter hexagon mesh design. The new grille includes some orange LED Raptor lights towards the top of it common on offroad trim levels. Along those same lines the new grille has big bold Ford lettering across the grille that replaces the blue oval. These changes bring the new look closer to that of the raptor trim models. Adding this grille really changes the look on the front end and gives it a more performance driven feel.
Custom Painted Ford Emblems
With the front Ford oval replaced all that was left was to personalize the tailgate emblem. To do so we removed the factory chrome and traditional blue and custom painted to have a blackout appearance. This matches the black and bronze color scheme and finally removes the last bit of factory manufactured feeling.
Tailgate Applique and Inlay
Fixed to the tailgate around the custom Ford emblem is a satin black tailgate applique. An accessory like this helps to bulk up the backend and create more detail in a similar way to the hood scoop. Beneath the applique is an embossed black Maverick tailgate inlay to help people distinguish the car more easily. Domed tailgate lettering inlays help pack a punch for the branding of the trucks model!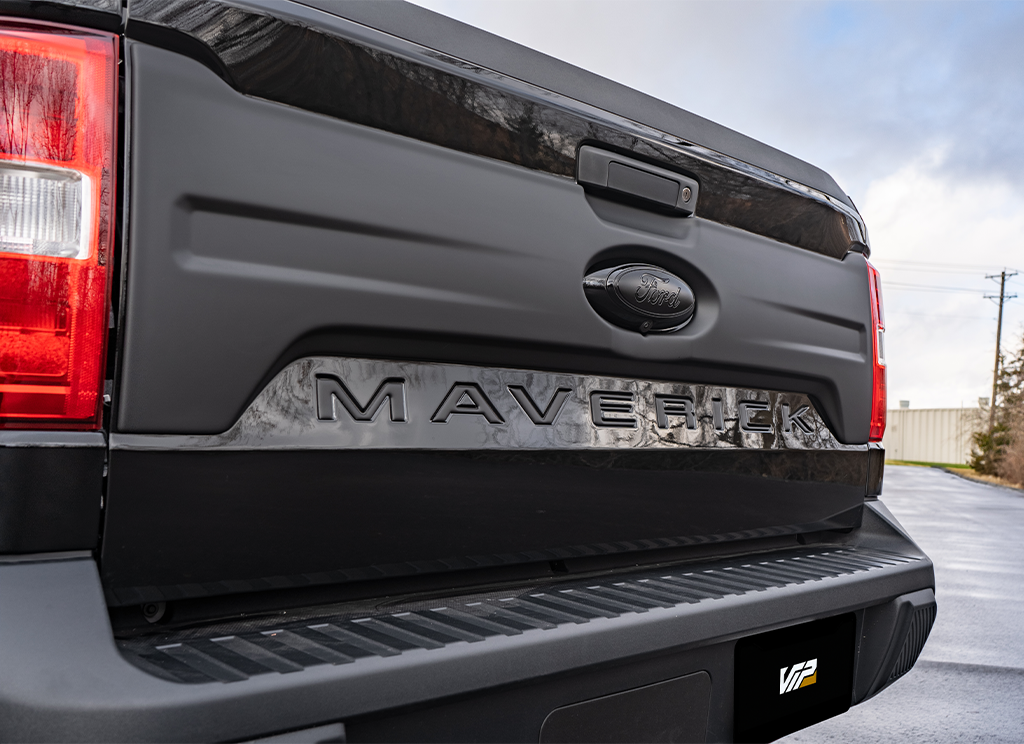 Keko Sport Bar
Sport bars or chase racks make great additions for trucks including the 2022 Mavericks. The main purpose of the sport bar is to serve as quick attachment points around the bed along with some minor safety in the event of a roll. You can strap on a spare tire, secure some cargo, or hook up an LED brackets to them. Plus, they create a strong well-built look to the truck that improves its aesthetic.
The terms sport bar and chase rack come from the off-roading world. Support trucks would attach gas cans, water, parts, or tools onto their racks to follow or chase the sporting cars. Whereas the sports builds would be more prone to rolls during their races and require well-built sport bars to protect their trucks.
KC Hilite ERA-4 LED Lights
Mounted on the chase rack by the roof of the cab is a pair of KC Hilite ERA-4 LEDs. These heavy-duty lighting accessories can withstand all the elements and still shine bright with around 7,900 lumens. These spotlight style beams have about 591 meters of distance to light the path ahead. They maintain their signature KC styling and have backlit amber LEDs when not fully in use.
RGB Truck-Bed Lighting Kit
Another lighting accessory we added was an RGB LED kit installed under the side rails of the truck bed. Given the most common uses for this compact truck we figured that some party lights for campouts or tailgates would be nice. The RGB lights have multiple color settings controlled by a small remote making them easy to use. They can also be switched to pure white for normal visibility when looking around the bed too.
Spray-In Bedliner
On the subject of the truck bed, we applied a spray-in bedliner for added protection. Every truck no matter how it's used gets stuff thrown around the bed. Bedliners act as a barrier against hard scrapes and weather conditions that could otherwise lead to paint chips and rusting.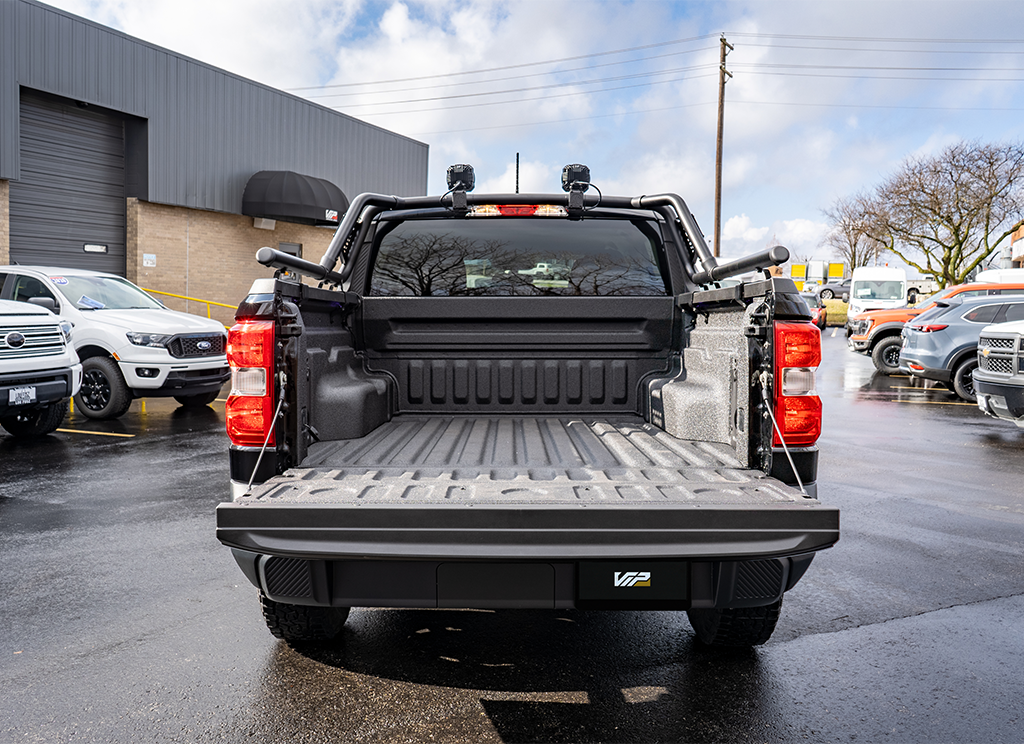 3M FX Premium Window Tint
Finally, this Maverick had window tint applied to it. Installing a tinted film to your windows delivers awesome style, but more importantly it has practical benefits. Window tint creates privacy and provides protection from harsh UV rays for you and your ride. The window tint is even more effective at changing the allure of this car because it darkens the windows to match the body paint.
Using high quality 3M premium window tint film, we applied a 35% tint on the front windows leaving the back windows at their factory shade. Rear windows are usually darker when they leave factory and don't always require an additional tint.
When you go to select your tint, you need to keep in mind your local laws so that you don't get ticketed. We always recommend a professional install for this modification. Poor tint jobs will bubble and discolor over time. Make sure your window tint installer has a good warranty to protect your investment!
Potential Add-Ons
Even though this Ford Maverick pickup has loads of new accessories there are still many more options! To further improve its offroad performance you could hook up a bull bar with some round LED's attached or install ditch lights in the corners of the windshield. Whatever you chose for your Maverick build will look great!
---
To find your own custom badges like the ones on this Ford Maverick, look at our CATALOG.
Interested in a custom build, blackout, or chrome delete of your own? We offer pickup and delivery across the contiguous united states. Learn More