Looking for the right Kia Sorento was work, but finding the perfect mods and upgrades is the fun part! Kia Sorento mods can improve everything from comfort, safety, performance, or even style. These are some of the accessories and mods that every owner should consider adding to their custom Sorento. Not every alteration may make sense for your build, but this is a guide to start personalizing your Kia.
Cross Bars And Cargo Baskets
Cross bars or roof racks are a common way to increase carrying capacity for the Kia Sorento. When you install cross bars it allows you to use specialized accessories for hauling kayaks, canoes, surf boards, or winter sports gear. While roof baskets or covered cargo carriers let the space on your roof be used to securely hold extra goods that don't fit inside.
Keep in mind each of these accessories require connecting to roof rails. Be sure your vehicle has factory roof rails installed, or that you can purchase some for your make and model of vehicle.
Emblem Overlays
An exciting way to start customizing your Kia is by using vinyl graphics or overlays to change the face of the emblems and lettering. If you want to make a chrome delete build you can use these overlays instead of removing and painting all the chrome accents, which can be a bit expensive.
The best advantage of using an overlay is that they can be easily removed if you want to change color or get rid of them altogether. They won't leave any damage or sticky adhesive making overlays a great modification to consider.
What makes our overlays a good option is that they are really affordable and fully customizable to any color or pattern. Not to mention they're easy to install because of their low initial tac, which helps you save some money by doing it yourself! Having that low tac allows the emblem to easily be moved around for perfect placement. In addition, our overlays have air release technology that makes it easy to smooth out bubbles for a cleaner look. Other overlays you might get from websites like Etsy won't have these benefits and can be tricky to apply.
Leather Seating
Factory leather is only found on the SX prestige trims and in-select styles or colors for the Sorento. If you own any of the other models you've either got cloth or synthetic seats that probably aren't the color or design you want. Custom leather seating can be added to any Sorento for less than you might expect. If you want leather, but don't want to pay for a higher trim level just to get it Katzkin can save you thousands. For instance, the difference in price between the LX base and SX Prestige is around $11,000 and installing leather and heated seats on the LX is less than half that!
Katzkin Leather offers vehicle-specific kits that replace factory cloth with the leather of your choice. You can create a design, or choose one of their preset designs to style your interior however you want. Replacing any cloth interior can actually increase the value of the vehicle later on when you go to sell or trade it in.
Whichever design you go with you'll receive durable full seat upholstery, not seat covers. They are engineered to completely replace your Sorento's factory seats with seamless integration. The old upholstery is removed from the cloth seat, and it is replaced with the luxurious new Katzkin leather. Make sure you find a preferred Katzkin installer for a professional installation.
Receiver Hitch
You likely chose an SUV like the Sorento because you live an active lifestyle. Which is why adding a receiver hitch to your custom Sorento means you can attach a cargo or bike carrier to maximize your mid-size SUV's carrying capacity on your outings.
Receiver hitches often come in 1.25 or 2 inch variants, so make sure you select the size that matches your intended use. The Sorento can reach a towing capacity of 2,000 pounds, so pulling things like a lightweight aluminum boat or pop-up camper is an option.
Custom Wheels
There are loads of really amazing wheel designs out there from companies like Fuel, Black Rhino, and more. The ever-popular Zion and Yosemite Sorento concept builds that kia released utilize some unique fuel wheels. The Yosemite build (on the left) features Fuel's Vapor wheel design while the Zion build (on the right) sports a custom version of their Assault wheel design. Although, if you want some custom wheels that doesn't always mean you have to replace the wheel itself.
You can give new life to your current wheel designs by using a powder coat finish and save a bit of money in the process. Powder coat finishes provide great benefits like color customization and durability. Wheels are a big focal point on a car, and they take a lot of damage from debris and gravel along the road. These powder coat finishes help form another layer of protection while adding to the appeal of your ride.
Mud Guards
Mud guards, sometimes called mud flaps or splash guards, are fixtures that extend down the fenders behind the tires. Adding mud guards to your custom Kia Sorento build delivers extra style along with practical benefits. For instance mud guards block the vulnerable undercarriage areas from extra harshly flung debris. furthermore mud guards help keep the vehicle they're on, other vehicles on the road, and pedestrians from getting hit by flying debris the wheels stir up.
Flexible materials used in the construction of these mud flaps makes them quite durable as they thwart the kick up of debris from the road. This is a great first accessory to add since it's quite simple to install and won't break the bank as you budget for other Kia Sorento accessories. If you're doing the install yourself just make sure the mud guards don't rub against your tires and are well secured.
Window Tint
If you want to make your Sorento to look more classy then applying a window tint is the right call. Window tint films protect your interior, your valuables, and most importantly you from the sun's rays. Plus darker windows create a stern and serious look with the added benefit of privacy. Eyebrow tints at the top edge of the windshield are very good at keeping the sun out of your eyes to maintain a good visual while driving as well.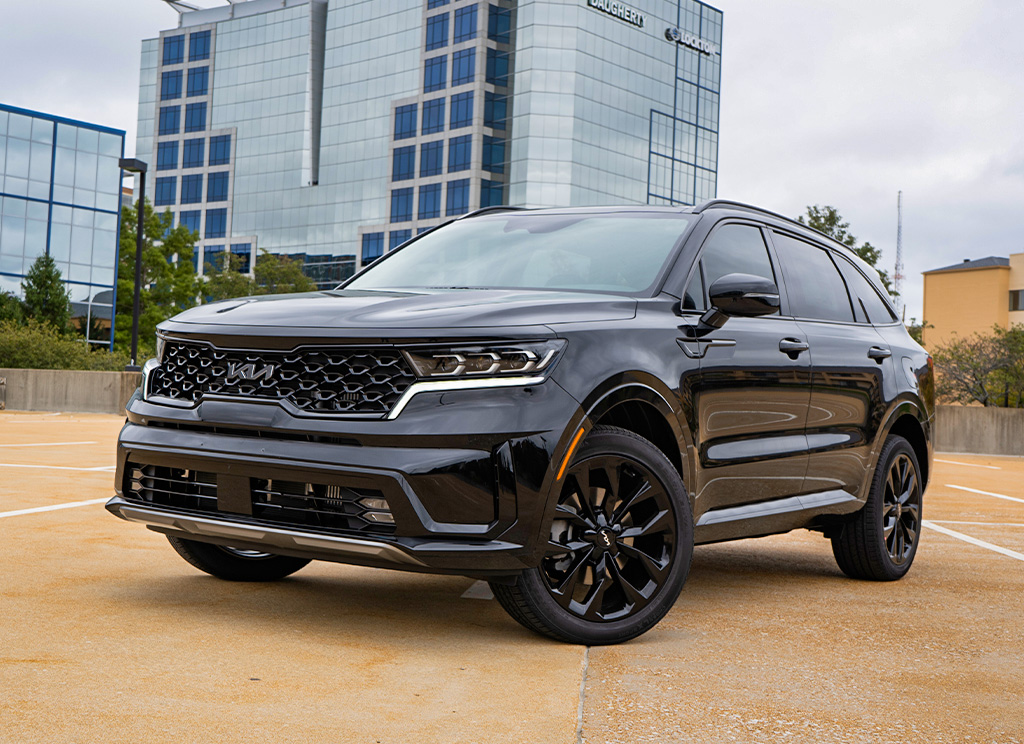 Your Sorento has factory tinted glass already, but its not very dark and doesn't cover every window. Typically the front windows of a new car have very little, or no tinting at all. Kia (along with every automaker) does this to abide by state laws. The vehicle could be sold in any state, so they adhere to the strictest auto tinting regulations of states. If you want all windows to match you can have a tinted film applied to the front driver and passenger windows only.
You can also choose to have all the windows tinted to an even darker VLT (visual light transference) level. We use tint film with a VLT of 5%, 20%, or 35%. The lower the number, the darker it is. Whichever direction you go make sure you're aware of the laws in your area. It's a good idea to have a professional install for this modification. Poor tint jobs will bubble and discolor over time. Make sure your window tint installer has a good warranty to protect your investment!
Floor Liners
If you still are rolling around with plain carpet or carpet mats you're doing it wrong. Every car needs floor liner to protect its interior! Kia has floor liners they offer, but WeatherTech FloorLiners offers better coverage and more durability.
We recommend any liner over a generic mat. Additionally, we would recommend some kind of cargo liner for the trunk space. Liners will keep messes off your floor and make cleaning them up much easier. They help to ensure a clean interior when you sell or trade in your Sorento in the future.
Color Change Vinyl Wrap
Most of the time vinyl wraps are misled as being super lavish or expensive. The truth is wraps can be very simple and add a lot of style to any vehicle. For SUVs like the Kia Sorento a roof and pillar wrap can compress the car making it appear more streamlined and athletic. Of course, there are full vehicle wraps as well if you wanted a specific style or finish to your Sorento.
Whenever vinyl wrap is applied to a vehicle it ends up protecting the paint underneath from weather and debris until its life span is up. This doesn't protect as strongly as PPF (paint protection film), but it does safeguard the vehicle. Most vinyl wraps last for 5 years, but if well taken care of can last up to 8 years. If you don't give any care to the wrap or don't let a professional install it, then it could last for a shorter time period.
Painted Calipers
The final Kia Sorento modification is made to highlight its performance and appearance. You can choose to paint the brake calipers a certain color or replace them entirely for better ones. Typically colors like racing red or yellow, which are associated with speed, are used to add more depth to the vehicle. The bright paint really stands out behind the wheels and adds a pop of color to the SUV.
If you want to safeguard your newly painted calipers, then applying a ceramic coating will do the job. This coating helps reduce the buildup of dirt and debris while adding another layer of protection for the paint. These coatings make cleaning ridiculously easy, so that you can wash away any kind of build up over time. Ceramic coatings can also be applied to your entire vehicle's paint to add another layer of protection and make the whole thing easy to clean.
---
Looking to customize your Kia Sorento? We offer aftermarket accessories internationally and services across the contiguous U.S. to help you get your car exactly how you want it. Reach out if you'd like a quote for building your vehicle!