2021+ Chevy Suburban Gloss Black Grille Package
$895.00
Buy Now
Can you picture a chase scene from a movie like Bourne Identity or a 007 flick? One where some secret organization is coming after the protagonist in a fleet of unmarked blackout SUVs and motorcycles. That is exactly what we had in mind while creating this custom 2023 Chevy Suburban! A blackout Suburban like this one is a powerful three-row juggernaut that can haul around your entire crew in style. Let's get into the details of how this Secret Service SUV look alike came to be.
Build Inspiration
You may not know it, but the Chevrolet Suburban has been around since 1935. It's proven to be such a well-designed vehicle, that even the U.S. government took a vested interest in it for security use. The Suburban's hefty build quality has been popular within the FBI, Secret Service, and Special Force's division. The president's personal guards in particular have molded their own custom Suburban's like the "Roadrunner" and "Halfback" to serve the needs of our national security.
Even a normal Chevy Suburban off the lot is one of the few civilian vehicles that can sustain a small amount of gunfire and remain operable long enough to reach safety. If its sturdy enough to protect soldiers and spacious enough to hold all their gear, then it will suit your family and friends nicely.
Aside from its military roots the Suburban has also been featured in movies like Marvel's Avengers series. In the scene where Nick Fury is ambushed, he's driving an armored blackout Chevy Suburban! For this custom Chevy we didn't add any extra armor or blockbuster tech. Instead, we fashioned an unmarked blackout look that creates a low-profile appearance.
Chrome Delete Trim
Our full blackout builds begin with a chrome delete that eliminates the factory trim. Every bit of chrome on the trim is removed and evenly coated with a gloss black paint that matches the body color. In some instances, we use blackout replacement parts, or a black vinyl wrap instead of paint. Chrome deletes on their own are a popular modification for any vehicle since they go well with any color. However, chrome deletes on black vehicles create a fully murdered out look that makes a BIG difference to its presence.
Starting this chrome delete process on the Suburban involves removing the front bumper trim, rear bumper trim, and the running board trim. These parts and the ones to follow would be escorted to our paint booth and prepped for the application of new paint.
From the top down we remove the roof rails and the window molding to give these parts the same blackout treatment. Even the smaller details of chrome on the side of the door handles aren't safe from the same dark demise.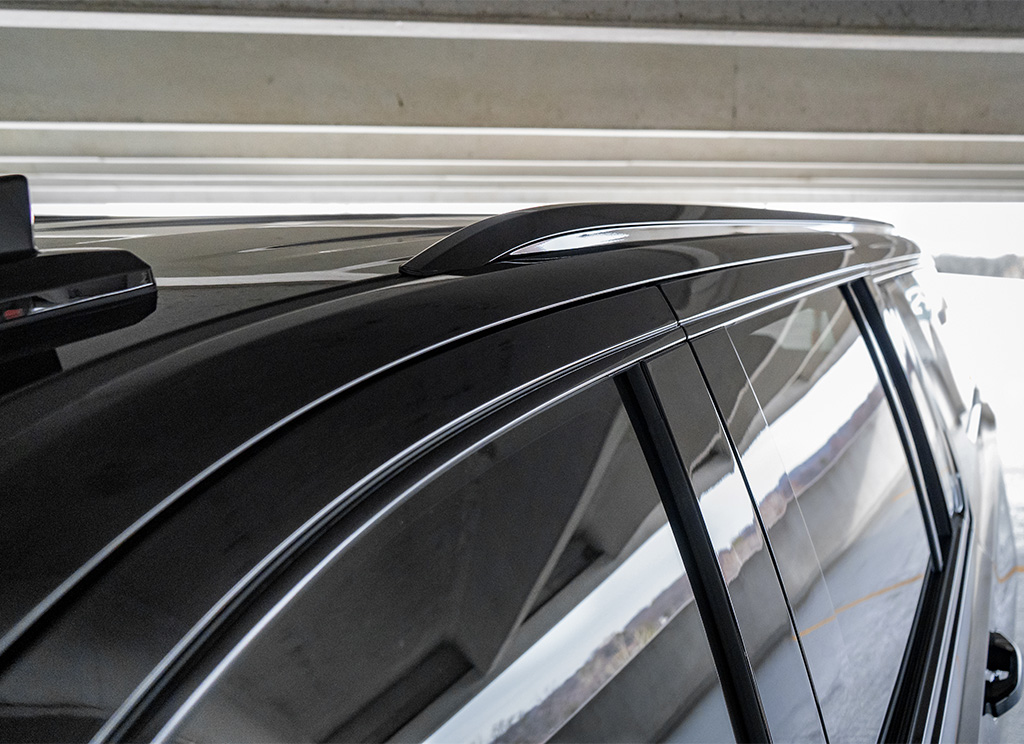 With the remaining chrome on the rear hatch valance being swapped out this Suburban's original trim is wiped out. Our next task was dealing with the chrome filled grille, but to remedy this we had a simple and effective solution that you can use too.
Blackout Emblem Delete Grille
Instead of painting the grille we used a complete replacement blackout grille that alters the look of this Suburban's front end. Using a blackout grille cuts down on the labor costs of painting and its impregnated plastic resists damage form road debris. This meant the grille wouldn't perfectly match the body color, but it also wouldn't require additional paint protection film to guard from chipping. In this instance we much prefer the replacement grille for its durability since the difference in appearance doesn't bother us.
Another unique part of this blackout Chevy Suburban grille is that it deletes the front bowtie emblem for a minimal unbranded look. The unmarked appeal of this ride allows more focus to be given to the whole vehicle as opposed to the branding. This blackout de-badged Suburban also has an intimidating character to it without emblems which we find very fitting. If you want to keep the chevy emblem there is blackout grille design for that as well.
Blackout Chevy Emblems and Lettering
Even though the front Chevy bowtie was removed we kept the emblem on the back and gave it a blackout to remain cohesive. To erase what was left of the chrome branding we blacked out the Suburban lettering on the side doors and along the tailgate. The new blackout Chevy emblems look embossed on the Suburban and require closer investigation to figure out what the vehicle is which adds to its mysterious allure.
Luxury SUV Wheels and Tires
Once all the chrome accents on the body were deleted the factory wheels felt chincy and out of place. We debated powder coating the old wheels black to increase their durability and give them a refreshed look, but we wanted them to have a unique wheel design. To give it the presidential look we chose the Asanti Corona-6 22-Inch wheels. These sleek gloss black wheels present a sharp 12 double spoke design. They have a strong character that emphasizes their craftsmanship and sophistication which fit the bill for this build.
Complimenting the rigid luxury of these wheels is a group of four street focused tires. The perfect on road pairing for this blackout Suburban's wheel design were the Bridgestone Alenza Tires (275/50R22). Well-developed tires with a little bit of meat on them make the wheel and tire set-up on this full-size SUV look stockier.
Painted Calipers
Even most of the visual components were already black we wanted to take this blackout all the way. That meant painting the steel brake calipers behind the wheels black too. A small detail that won't be seen by many but adds to the blackout look. Painted calipers also create a layer of protection against corrosion that extends their life span.
Window Tint
To give this Suburban some additional interior protection and style we added some 3M window tint. One overlooked benefit of window tint is its solar energy rejection. This helps keep your interior cooler during hot summer months and protect plastics in the dash from sun fading over time. Not to mention the classic allure window tint creates giving your ride some style points!
Tint is a great appearance upgrade to any vehicle, but it's important to know that not all tint is made equal. We only use 3M tint because of their benefits over competing brands. We wrote a whole article about the benefits of 3M tint to help you learn more before making your decision.
Tints are offered from 5% to 70% with the lower numbers being darker. The % measures VLT (Visual Light Transference) which quantifies how much light comes through the film. When you go to select your tint, you need to keep in mind your local laws, so that you don't get ticketed. We always recommend a professional install for this modification. Poor tint jobs will bubble and discolor over time. Make sure your window tint installer has a good warranty to protect your investment!
Paint Protection Film
Of course, to keep this shiny black build looking good for as long as possible we applied a paint protection film to the front end. PPF thwarts rocks, twigs, or whatever else impacts your vehicle preventing damage to the paint. Your vehicles paint is the first line of defense against rust and PPF helps increase its resistance. Most commonly its applied to the front end and hood similar to a clear bra, but it can be placed anywhere on the vehicle's paint.
Complete Ceramic Coating
Finishing off this Suburban build is a ceramic coating that protects entire exterior. Not only does ceramic coating protect your paint from the elements, but it also enhances gloss and depth (which is a big bonus to this pitch-black paint). The coating should only ever be applied after PPF is installed and helps to make cleaning your car a million times easier since it resists water and dust build up.
---
Interested in a blackout or chrome delete build for your Chevy Suburban or another vehicle? We offer pickup and delivery across the contiguous united states. Learn More