GMC Yukon Premium Blackout Kit
$7,987.42
Buy Now
The GMC Yukon Denali was designed to have a premium look filled with power. This custom Yukon Denali takes things to a whole new level with a complete blackout and de-badged appearance. It has chrome delete trim, black powder coat wheels, and tinted windows that spurs curiosity.
With all these added GMC accessories and mods this Yukon Denali is looking sleek like a shadow when it hits the street. To uncover all the vehicles photos and accessories, keep on reading!
De-Badging the Emblems
One of the things that makes this blackout Yukon Denali so unique is its de-badged appearance. De-badging removes the emblems from the car which creates a clear and streamlined look. Aside from the visual clarity, the absence of emblems prevents dirt buildup on certain areas keeping your ride cleaner.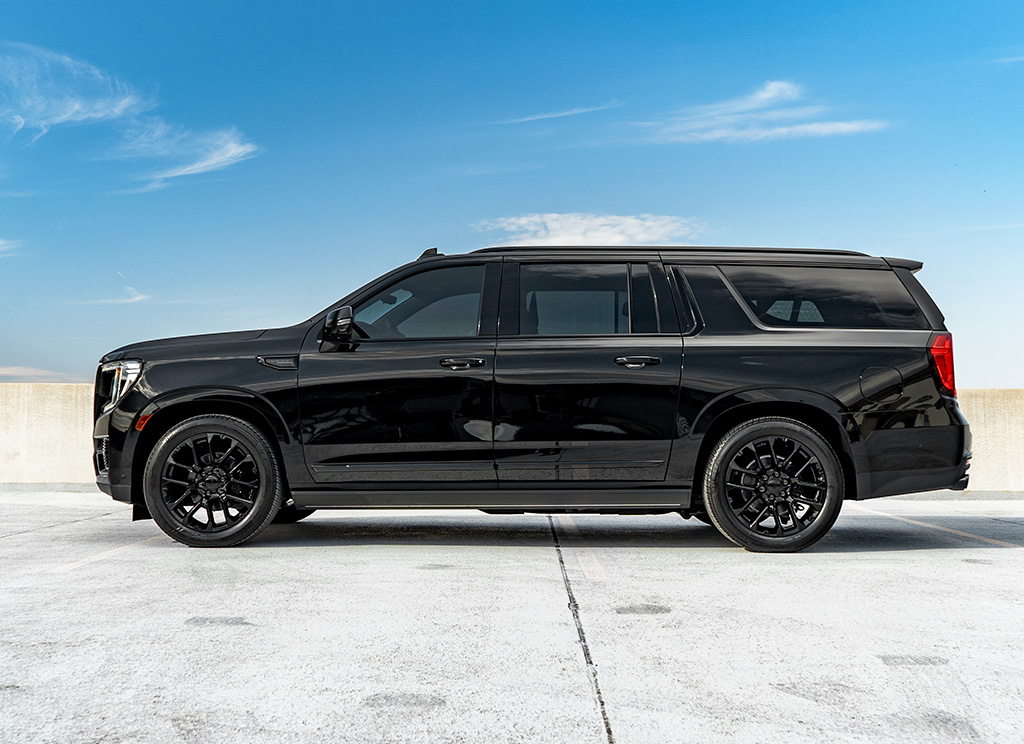 Aside from the practical and aesthetic reasons of de-badging individuals also feel that removing the badges will prevent free advertising for auto manufacturers. Others may even do it to hide the trim level they purchased since it hides the vehicles value. Either way de-badging your Yukon creates more privacy and can adhere to your personal preference.
If you are interested in de-badging your ride, be aware that some badges are attached with clips that can be tricky to remove. If you don't feel confident in removing them yourself visit a reputable shop that warranties their work. However, most badges have a simple adhesive that can be removed with ease using an emblem removal tool.
Black Powder Coated Wheels and Exhaust Tips
This Denali is rocking some sturdy wheels from the factory the only problem is they're chrome… Instead of dropping another wad of cash on custom wheels and wasting the old ones we chose to apply a black powder coat finish. This keeps the look minimal and coincides with the decision to de-badge this custom SUV.
Powder coating is a more durable finish than standard paint with many color options available for you to choose. The big benefits of powder coating are high durability, better coverage, cost efficiency, and a more environmentally friendly impact. Infact the exhaust tips on this build received the same powder coat finish to remove the metallic color and increase their resistance.
Black Painted Calipers
Taking this blackout all the way includes even the smaller details. Behind the new powder coated wheels we painted the brake calipers with a gloss black finish. Doing so protects them from corrosion and gives you a cleaner look with an added depth of detail. There are a lot of colors available, so if you want your caliper to have more of a pop you can choose a color like red or yellow.
Chrome Delete Trim
Yukon's are covered in chrome trim that weighs down their appearance. The largest piece of chrome on the Yukon is its mammoth sized grille where we start our chrome delete. To eliminate all the chrome quickly, we replace it with one of our blackout Yukon Denali grilles. This blackout grille swap is enough of an impact to darken most of the front end altering the exterior style.
On the front-end we replace chrome areas like front bumper trim, fog light bezel, and fender vent accents with more blackout parts. These parts can also be covered with vinyl wrap or paint, but replacement parts make things a bit easier.
Certain pieces get special treatment, orange side markers for instance get smoked with a tinted clear coat. Tinted clear coats are used on translucent plastic parts to darken them without fully blacking them out.
Meanwhile parts like the roof rails need to be pulled off along with the window trim, which is thin and fragile. Each of these are then painted gloss black and reinstalled to delete the chrome. Beneath the windows, spots of chrome on the door handles and lower body molds are also wiped out.
The final parts of the trim that get a chrome delete are the rear bumper trim and rear hatch valance. Once they're taken care of this build becomes a full-fledged blacked out Yukon Denali.
Ceramic Window Tint
Of course, you can't have a blackout build without some tinted windows. Ceramic window tint makes a valuable addition to this blackout Yukon Denali since it blocks heat and UV rays. Black cars get hot in the summer, so window tint plays an important role in keeping them cool not just looking cool.
Tint is a solid appearance upgrade to make on any vehicle, but it's important to know that not all tint is made equal. Why ceramic tint over regular tint though? Well ceramic tint tends to block heat better and some brands like 3M bond better with the windows. We wrote a whole article about the benefits of 3M tint to help you learn more before making your decision.
When you go to select your tint, you need to keep in mind your local laws, so that you don't get ticketed. We always recommend a professional install for this modification. Poor tint jobs will bubble and discolor over time. Make sure your window tint installer has a good warranty to protect your investment!
Paint Protection Film
Given the high price tag of the GMC Yukon Denali, we strongly recommend protective accessories and upgrades to keep your investment safe. Paint protection film, PPF, is a clear thin layer that protects key areas of your car from high impact scrapes, chips, and dents. This film should always be applied before a ceramic coating for a proper install.
Ceramic Coating
Our Ceramic Solutions formula forms a chemical bond with factory paint or vinyl that helps to resist dirt, grime, and chemical damage to the paint. The best thing about a ceramic coating is you just wash your car as normal! Having a Ceramic Solutions coating allows you to spend less effort cleaning your ride.
Potential Add-Ons
There are plenty of smaller GMC Yukon accessories and upgrades to look out for too. On the interior infotainment screen protectors are a big plus to prevent scratches, dents, and spills from harming the display. While additions such as vinyl window graphics can be used to add an element style. Whichever modifications you make on your Yukon it will help create the perfect vehicle for you. If need any assistance building your ride, we are happy to help!
---
To see all Yukon Denali specific customization options look at our CATALOG.
Interested in a custom, blackout, or chrome delete build for yourself? We offer pickup and delivery across the contiguous united states. Learn More