Now that you've got your CX-50 you're ready to make it your own! Lucky you, you came to the right place for customization tips. We've helped numerous people personalize their Mazda CX-50s! In this article we'll share what we consider to be some of the best accessory upgrades that you can get for your ride. Not every addition may be helpful for your needs, but this guide will help you find some options to choose from.
Roof Rack Accessories
If you are leaning more towards travel and overlanding use, then you'll want to look into roof racks. You'll find lots of different styles available that either extend cargo space or hold larger equipment like kayaks. What we recommend the most is a roof basket or cargo basket since it allows you to carry more items and can be used to hold larger objects with some adjustments. Mazda recommends a flat carry rack, while this style is easier to access it doesn't have a wind fairing to reduce noise and protect your cargo. To hook up any of these you'll likely need a set of cross bars which you can pick-up from Mazda's website.
Roof rack additions can open the door to other rugged travel accessories such as LEDs or brush guards. Parts like these can improve your CX-50s look, offroad function, and durability. If you're overlanding in rougher terrain or just want some rugged good looks these will make good accessories to consider.
Installing A Lift Kit
The CX-50 is Mazda's first offroad focused vehicle and it does pretty well. However, the terrain of some trips in the U.S. requires added ground clearance to overcome large rocky paths. To solve this, we suggest a 1.5-inch CX-50 lift kit that doesn't disrupt the well-engineered ride quality. Mazda Lift kits can be hard to find, but the HRG lift offers a small boost without altering the vehicles suspension which works great!
Adding the lift kit not only raises the ground clearance protecting the underside of the CX-50 from damage, but it allows room under the vehicle for larger wheels and tires. A CX-50 benefits the appearance of the vehicle as well making it more prominent on the road.
Graphics and vinyl wraps
Vinyl graphics and color change wraps are exciting and effective ways to transform the appearance of your ride. These modifications may seem outlandish to some, but they offer great style, personalization, and protection. This upgraded 2023 Mazda CX-50 shows off a lot of the gear discussed in this article including some custom graphics.
Stylized graphics like the hood stripes found on the Meridian edition Mazda CX-50 create more character. One of the custom graphics we offer is a Mazda CX-50 topographic window decal that can showcase an adventuresome spirit. If you have a specific idea in mind, we are always happy to help you create something unique too!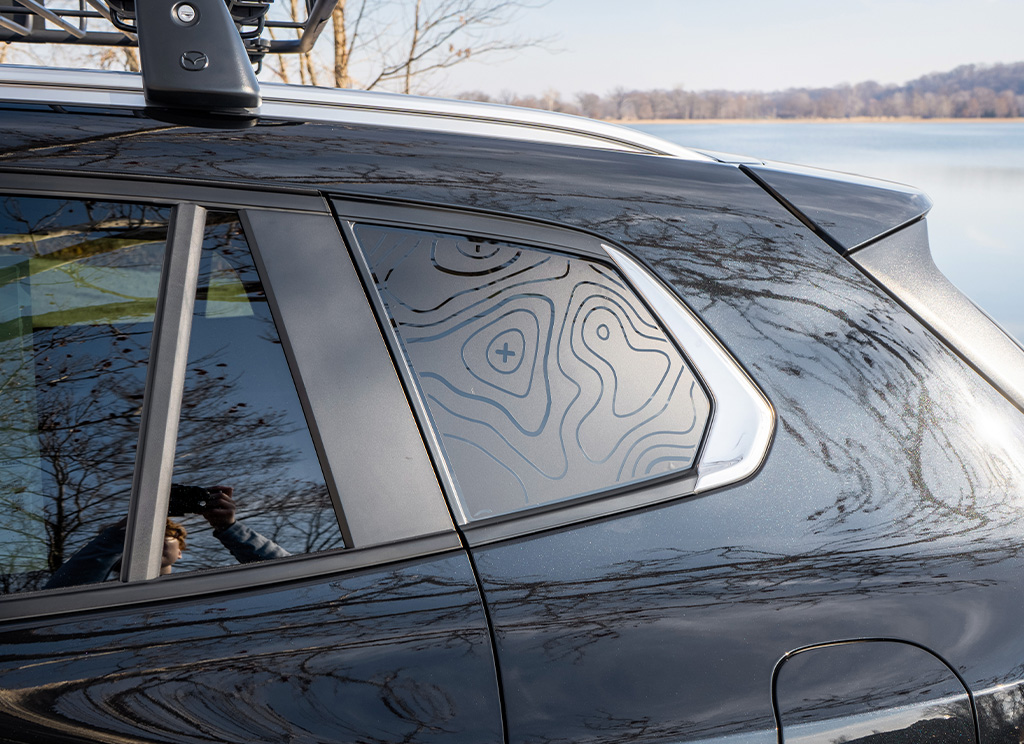 Vinyl wraps on the other hand cover a lot more space than graphics do, and they can change the color or finish of any vehicle. These wraps can also be applied to certain sections of your ride like the roof or hood to create a unique look. The benefits of vinyl wraps include nearly limitless freedom in customization and a barrier of protection for your cars original paint.
If you were just interested in protecting your vehicle's paint, then applying a paint protection film is an option that lets you do so. Guarding your paint from chips can keep parts from rusting over time which is important for saving resale value.
Custom Wheels
Wheels are a prominent area of vehicles that have seen thousands of designs over the years. You can choose almost any custom wheel you can think of to replace your factory rims with companies like Fuel, Black Rhino, and more. Now, if you want custom wheels but don't want to drop a chunk of cash on a whole new wheel design, there is another option!
The other way you can improve the look of your wheels is by using a powder coat finish to save a bit of money. Powder coat finishes provide benefits like color customization and durability. This type of finish helps form a layer of protection while enhancing the appeal of your ride.
One last thing to consider when customizing your wheels is painting your brake calipers. Painted calipers create a pop of color the stands out from behind the wheels. You can choose any color you like though most often people choose colors like racing red or yellow for their association with speed. Painting the calipers provides added depth to the styling, but more importantly resistance to corrosion.
Floor Liners
The best accessory for the Mazda CX-50 or any ride for that matter is a floor liner. If you still have plain carpet floors or carpet mats, please do yourself a favor and invest in floor liners. Every vehicle needs a floor liner to protect its interior! Mazda has floor liners they offer, but WeatherTech floor liners offer more coverage and stronger durability.
Any liner from amazon is recommended over a generic mat or bare carpet, like this Motor trend universal liner. In addition to the floor liners, you can also find cargo liners for the trunk space. These liners will keep dirt, liquids, and other debris from getting embed into you carpet. If you like quick and simple cleanups, then floor liners are right for you.
Window Tint
You can really give your CX-50 a classy look by applying a window tint film. Window tint films protect your interior, your valuables, and most importantly you from the sun's rays. In addition, darker windows create a mysterious allure while adding more privacy. There is an option to get an eyebrow tint at the top edge of the windshield to keep more of the sun out of your eyes too. Which helps you maintain a good visual while you're driving during sunrise or sunset.
Your CX-50 has factory tinted glass already, but it's not very dark and doesn't cover the front windows. Most often the front windows of a new car have very little, or no tinting at all. Mazda (along with every automaker) does this to abide by state laws. They adhere to the strictest auto tinting regulations of states, that way the vehicle can be sold in any state. If you want all windows to match you can have a tinted film applied to the front driver and passenger windows only.
You can also choose to have all the windows tinted to an even darker VLT (visual light transference) level. We use tint film with a VLT of 5%, 20%, or 35%. The lower the number, the darker it is. Whichever direction you go make sure you're aware of the laws in your area.
It's a good idea to have a professional install for this modification. Poor tint jobs will bubble and discolor over time. Make sure your window tint installer has a good warranty to protect your investment!
---
This post contains an affiliate link to products we recommend. If you use these links to buy something we may earn a commission.
Want to see all of our Mazda CX-50 customization options? Visit our CATALOG!