Kia EV6 Circuitry Quarter Glass
$29.99
Buy Now
This custom 2022 Kia EV6 is the envy of every urban environment. We styled its magnetic gray paintjob with a black vinyl roof wrap followed up by blackout Kia emblems. These black accent features along with black powder coated wheels, red painted calipers, and other custom EV6 upgrades bring this build to the next level.
Black Vinyl Roof Wrap
Roof accent colors are uncommon on many new electric vehicles which is why we decided to give this one a vinyl roof wrap. The gloss black roof wrap provides a unique accent to the magnetic gray exterior while remaining a neutral color scheme. Having a roof wrap gives the vehicle a more detailed look that comes across custom and upgraded. The roof wrap can also be extended for more coverage like on this black and yellow EV6 we worked on.
Blackout Emblems
To change this blackout EV6's demeanor we wanted to get rid of its factory chrome badges. We swapped them out for a set of painted black kia emblems, but you could use emblem overlays to achieve a similar look. Both the front and back kia emblems along with the EV6 badge were completely de-chromed. All black branding, including the EV6 badge, helped to create a more sophisticated tone that brings this custom EV6 build to the dark side.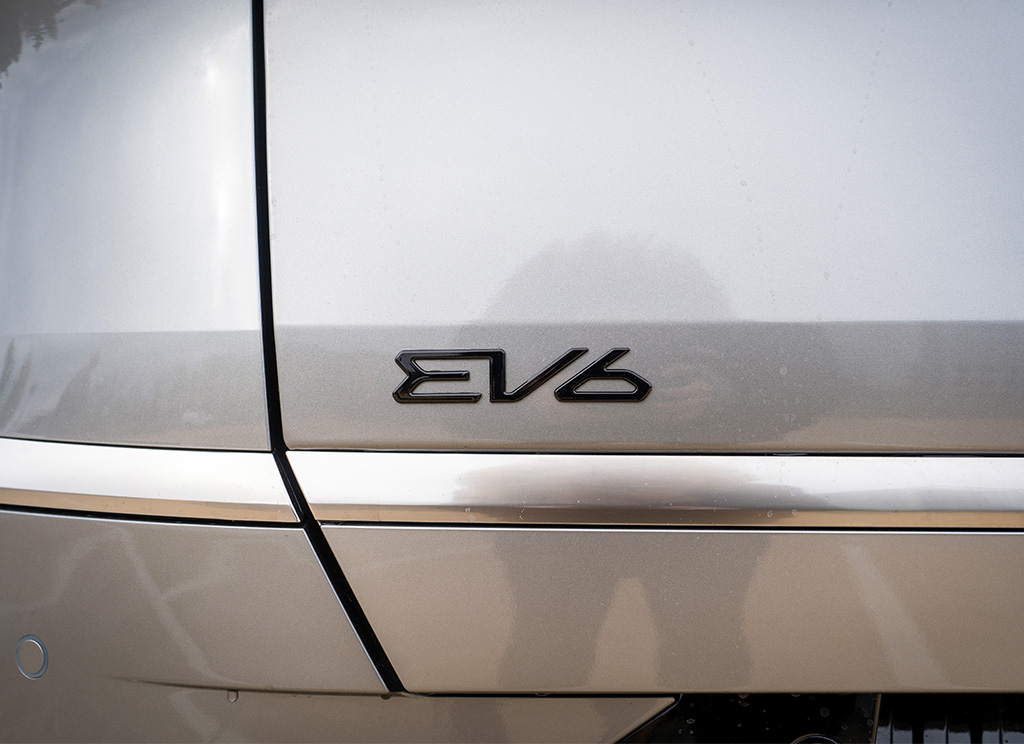 Black Powder Coated Wheels
Next, we wanted to emphasize the EV6's futuristic wheel designs with a powder coat finish. When using a powder coating on the wheels you get to keep your current wheel design but improve it with protection and personalization. While you can always look into awesome new wheel designs, they can get pricey and may not be the right option for your build.
These finishes are fully customizable to a large variety of colors giving tons of design freedom. The other big bonus is that the coating acts as a tough protective barrier that guards the wheels on the road. To wrap up these custom wheels a collection of black lug nuts was bolted on. After the black powder coating was added this custom EV6 was covered in black features from head to toe.
Circuitry Window Graphic
To add some tech inspired character to this Kia EV6 we applied a circuitry quarter glass window graphic. We designed the circuit graphic to match the style and feel of the EV6's electrical elements. It fits perfectly into the tiny quarter glass window behind the second-row windows. Small graphic additions like these can make your already unique car a little more intriguing.
Window Tint
With all the newly added darkness from the roof wrap, blackout emblems, and powder coat wheels it seemed appropriate to apply window tint. Tinting the windows on your ride provides protection for you and your car's interior. Plus, tinted windows create an added sense of privacy while giving the car a mysterious mood.
To be more specific we used 3M premium tint film to apply a 35% tint on the front, and 20% tint across the rear windows. When you go to select your tint, you need to keep in mind your local laws, so that you don't get ticketed. We always recommend a professional install for this modification. Poor tint jobs will bubble and discolor over time. Make sure your window tint installer has a good warranty to protect your investment!
Another EV6 upgrade you can make to go along with the tinted window and blackout look is tinted side markers. The bright orange side markers on the front wheels can be muted with tinted overlays to keep a darker appearance.
Red Painted Calipers
Small details can add depth to your custom car and really make it standout. On this build one of the smaller details are its gloss red painted calipers. The EV6's inventive 19″ rectangular wheel design leaves a small peak behind to see this feature. Painted calipers provide protection because their high-grade paint withstands friction, road chemicals, and debris while reducing rust and damage from the abuse calipers take while driving.
Paint Protection Film
For every vehicle paint is the first line of defense that prevents rust and corrosion. Using a protective film is important for increasing your vehicles life span. Paint chips tend to damage a vehicle's value and can lead to costly maintenance. Paint protection film, PPF, is commonly applied to areas of high impact such as the front bumper, grille, and hood. We also developed EV6 PPF door handle covers since they are prone to scratching and chipping.
For more peace of mind, and an easy clean, a ceramic coating could be applied over the paint after the PPF is applied. Ceramic coating is another protective layer to prevent dirt build up while deflecting debris and water.
---
To see all Kia EV6 customization options look at our CATALOG.
Interested in a custom build, blackout, or chrome delete for yourself? We offer pickup and delivery across the contiguous united states. Learn More