The 2023 Mazda CX-50 keeps both luxury and discovery well within reach. This high-class crossover SUV was designed for travel with gear accessibility in mind and some of Mazda's most rugged performance features. We took inspiration from the Meridian edition and built our own offroad Mazda CX-50.
This build features basic offroad elements like a lift kit, custom wheels, offroad tires, and a roof rack. To top it off we applied a few custom graphics and to give this lifted CX-50 some more character. Venture further down to find out more about each accessory we added to this build.
1.5-Inch Lift Kit
Even though the CX-50 has decent ground clearance it still needs a small lift to travel better in rough offroad environments. The lift we chose to install on this build is 1.5-Inch lift kit from HRG. What's nice about using this lift is it doesn't require new coil springs which keeps the original ride quality that Mazda intended.
Adding this Mazda lift kit raises the ground clearance and helps to protect the underside of the CX-50 from damage. Plus, it now has additional room under the vehicle to trade out the wheels and tires for larger sizes.
Offroad Wheels And Tires
Making full use of the new lift, we replaced the old wheels and tires with offroad options. When selecting the wheels, we kept in mind the blend of luxury and adventure built into the CX-50s DNA. To highlight those aspects, we chose the MSW 20-inch Type 48 Wheel design manufactured by OZ racing. They feature five a wide silver double spoke design with a black base that reinforce both style and durability.
Once the right wheels were chosen, we turned our attention to the tires. A set of all-terrain crossover tires that can handle multiple road conditions without impacting MPG to much is what we wanted. Since Good Year tends to be a good fit for Mazdas we chose their Wrangler Workhorse AT tires to weather the beaten paths this CX-50 would explore. These tires perform notably well in snowy conditions, and when paired with AWD they keep great control in the winter.
Painted Calipers
Tucked behind the new wheel and tire setup is a set of red painted calipers. This color pop helps to draw attention to the new wheels with addition of a subtle design element. Painted the calipers can be a practical modification too since helps resist corrosion of the caliper over time. Overall, they are a simple mod that when done correctly has some good benefits for your ride.
For vehicles that are taken offroad we recommend applying a ceramic coating with the painted caliper. This coating allows break dust, mud, and debris to be cleaned off easier adding another barrier of protection.
Cross Bars and Roof Rack
Cx-50 owners who have a strong case of wanderlust should strongly consider a roof rack. Having a roof rack allows for more ways to carry cargo on extended trips or when traveling with a full group. Before you install a roof rack, you'll need to hook up a set of cross bars which we sourced from Mazda. When you get cross bars there are a few kinds of accessories you can look into whether you have kayaks, bikes, a tent, or a whole lot of cargo to haul around.
The roof rack we chose is a Thule cargo basket that fits nicely on top of the CX-50. Although we wanted to personalize it, so we wrapped the wind fairing of the roof rack. The wind fairing received a custom Mazda chain link pattern that makes the roof rack look unlike any other. If you've never heard of a wind fairing, they are the angled pieces of metal that divert airflow up and over the cargo which helps reduce wind noise while driving
Hood Stripe Graphic
Making this lifted Mazda CX-50 look closer to the Meridian edition required adding a unique hood stripe design. The hood stripe features a prominent center with CX-50 in negative space along with two accent stripes on the side. It creates a look that is rigid a well-made that compliments the vehicles overall appearance. Hood stripes are a great look since they make a vehicle feel more sport and performance oriented.
Topographic Window Graphic
Building on the all-terrain inspired appearance of this offroad CX-50 we applied a topographic quarter glass window graphic. We developed this topographic decal to compliment the natural roots that inspired Mazda's design. Small graphic additions like these can make your ride feel more personalized.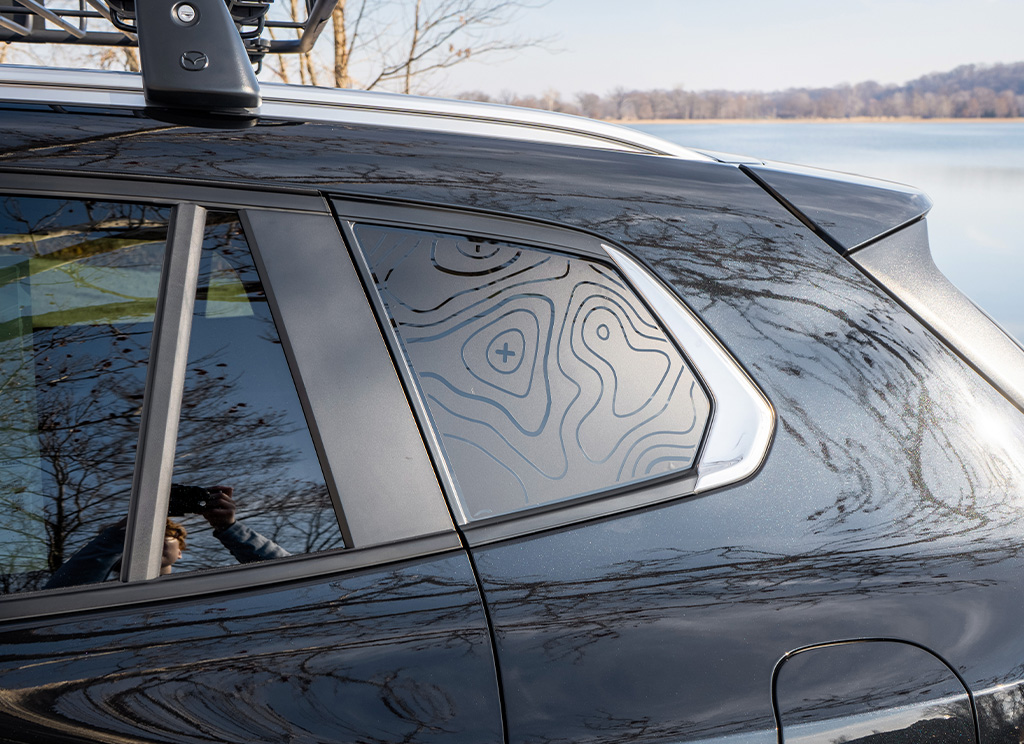 Window Tint
To finish this CX-50 build we applied a window tint film. Tinting your windows is actually another affordable modification with lots of benefits even though it's mostly known for aesthetic it creates. Even though tinted windows make a more alluring they also add privacy and protect you and your vehicle from harsh UV rays.
Using some high-quality 3M Premium FX tint film, we applied a 35% tint on the front windows leaving the back ones at their factory shade. Rear windows are usually darker when the leave factory because they are made with a tint dye and don't usually require a tint film. Most often we use 35% tints on 1st row windows in accordance with Missouri laws, but sometimes we work on cars for other states. To learn more about window tint you can read this article we wrote on it.
Tints are offered from 5% to 70% with the lower numbers being darker. The % measures VLT (Visual Light Transference) which quantifies how much light comes through the film. When you go to select your tint, you need to keep in mind your local laws, so that you don't get ticketed. We always recommend a professional install for this modification. Poor tint jobs will bubble and discolor over time. Make sure your window tint installer has a good warranty to protect your investment!
Potential Add-Ons
If you're looking for even more customization options, we would suggest custom emblems and badges. Custom emblems help personalize your ride since they help mute the original branding and create personality. Blackout emblems in particular are quite popular and can give a serious and refined look to your vehicle.
---
To style your Mazda like this offroad CX-50 look at our CATALOG.
Interested in a custom build, blackout, or chrome delete of your own? We offer pickup and delivery across the contiguous united states. Learn More