The CX-30 is a well-designed compact SUV that combines luxury, performance, and affordability. Anyone who's driven a CX-30, or any Mazda will tell you that they are great rides, but they lack exciting custom options that make a strong visual impact. With this build we changed the CX-30 into a sleek desirable car with an exterior as impressive as its engineering and ride quality.
This custom CX-30 is a bold blend of platinum and black. It has an all-new black roof wrap, blackout badges, and powder coated wheels. These changes along with a few other protective and style focused upgrades make this Mazda sure to grab plenty of attention. Let's take a look at the specific alterations to this vehicle!
Black Vinyl Roof Wrap
To make a big change to this CX-30's appearance we chose to wrap the roof and pillars with a black vinyl. This style of vinyl wrap creates a two-tone paint job look which was popularized on SUVs by Land Rover. The two-tone effect makes the vehicle feel streamlined and sporty while adding a complementary color. The black melds with the silver and alters the presentation of this Mazda, but that is just the start of this build.
Blackout Mazda Emblems
To add darker design elements on this custom CX-30 we did a blackout on the Mazda Emblems. Painting the emblems black on a car that is white, gray, or silver creates a modern style with wide appeal since they are both neutral colors. Having the pop of blackout emblems instead of chrome makes the car feel stern and professional.
The front emblem however is incased, so it isn't able to achieve the intense blackout character without tampering. This led us to smoking the factory emblem with a tinted clear coat to get a darker look. What's nice about this method is that it gives the emblem a distinct look without having to replace it or interfere with sensors most cars have behind their emblems!
Once these black Mazda emblems were installed, they complemented the other black sections of trim and the new roof wrap. The sharp contrast between black and silver draws attention toward the make of the SUV and helps to highlight different features of its design.
Chrome Delete Badges And Lettering
Chrome deletes, where all the chrome features are turned black, have become a popular modification for every vehicle. Many manufacturers even offer all black trim options for an additional charge, but not for all makes or trim levels. Since we already created custom emblems, we wanted to also change all the old chrome badges and lettering. After painting and reinstalling these new black accent features, we were very pleased with how they popped off the car.
Topographic Window Decals
In order to expand on the design of this chrome delete CX-30 we wanted to add some kind of vinyl graphic. Vinyl wraps and decals are used on lots of vehicles because they allow for endless customization. On this build we applied a topographic pattern on the quarter glass window to add a subtle design element.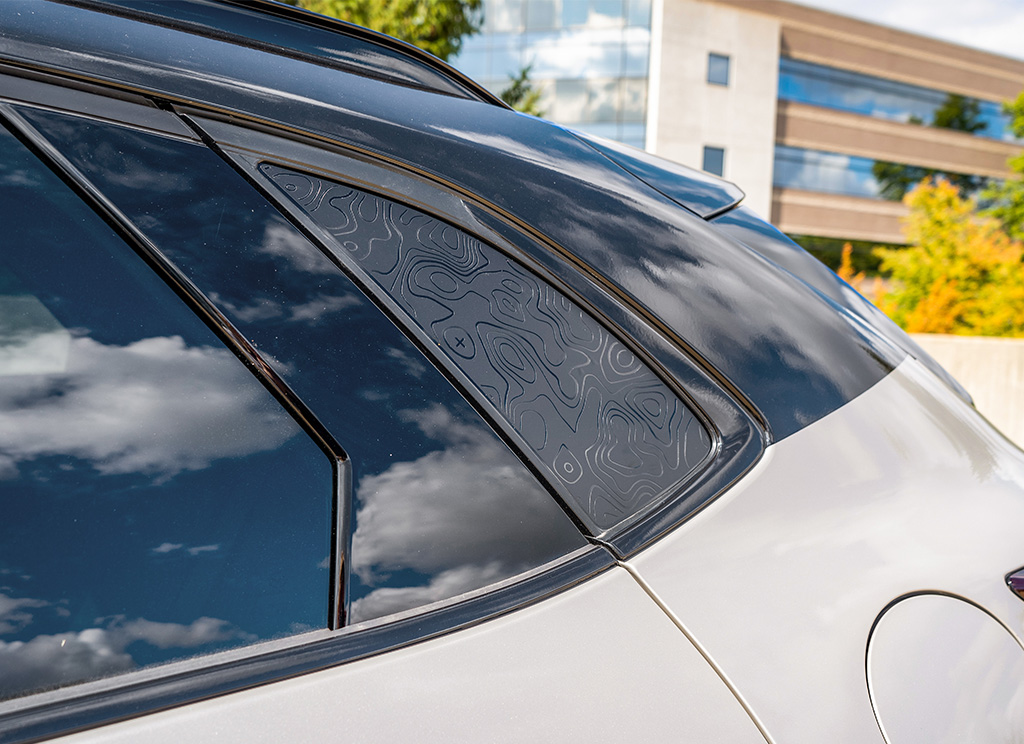 Window Tint
In order to further the dark demeanor and compliment the roof wrap we added some tinted windows to this blackout Mazda. Window tint is often known for creating a high-end alluring appearance, but it also provides important practical benefits. Applying a tinted film to the windows protects your interior, your valuables, and most importantly you from the sun's rays, with the added benefit of privacy.
Our shop uses a high-quality 3M Premium FX tint film, and we applied a 35% tint on the front windows and 20% to the back to adhere to state laws. Most often we use 35% tint films on 1st row windows in accordance with Missouri laws. To learn more about window tint laws you can read this article we wrote about them.
Tints are offered from 5% to 70% with the lower numbers being darker. The percentage measures VLT (Visual Light Transference) which quantifies how much light comes through the film. When you go to select your tint, you need to keep in mind your local laws, so you don't get ticketed. We always recommend a professional install for this modification. Poor tint jobs will bubble and discolor over time. Make sure your window tint installer has a good warranty to protect your investment!
Paint Protection Film
PPF is the best way to protect the paint on your vehicle, which is important since its paint plays a factor in resale value and overall longevity. Our team applied PPF film to protect the front end of this upgraded CX-30 from the high impact debris that is flung off the road. The film acts like a clear bra that helps prevent damage to the paint since chipping can lead to costly touch ups or rust over time. Most vehicle bras are large black pieces that don't always look appealing, so this PPF is another option.
For more peace of mind and an easy clean a ceramic coating could be applied over the paint after the PPF is applied. Ceramic coating is just another protective layer to prevent dirt and grime build up while also deflecting water.
---
Looking to customize your Mazda CX-30? We offer aftermarket accessories internationally and services across the contiguous U.S. to help you get your car exactly how you want it. Reach out if you'd like a quote for your custom vehicle build!