The 2022 Ford Explorer is a solid mid-sized SUV with tons of room to accommodate a variety of lifestyle needs. That said we didn't want this Explorer to look like any old run of the mill SUV. We put in work altering this Explorer with a chrome delete treatment, two tone roof wrap, and some window tint film which gave it some sleek new black out style.
Blackout Emblems
To delete the chrome from this 2022 Explorer we needed to strip off all the accent pieces including the emblems. The front and back Ford emblems were each removed and coated with a gloss black paint. This gives it a stern appearance that looks similar to embossed metal. This black trim has a lot of contrast when paired with white body paint making that oval Ford badge stand out more.
Chrome Delete
With the black out badges taken care of we turned our attention to the other chrome accent pieces on the car. At the back end, the rear hatch valance and bumper trim we're covered in that gloss black paint to match the black out rear emblem. With each new piece getting blacked out the look we wanted was starting to come together.
As you wrap around to the front of this Explorer you'll notice we deleted the chrome off the body side molding. When accents like this are painted with a gloss black finish it gives off a bit of reflection and draws eyes in for a moment to investigate. This helps shed some extra attention on the model written below the molding and ties the car together with small details.
Two-Tone Roof Wrap
The main thing we applied that had a big impact on this vehicle's appearance was a roof wrap. This gloss black roof wrap extends down the A-pillars providing an impactful change. This type of wrap gives off that "Range Rover feel" with it's two-tone styling. Wraps are an awesome way to give your two tone Ford Explorer a unique identity. It provides a really clever custom paint look without the cost. Vinyl wraps like this can also be easily removed if you want to change things up again down the road.
Pro-Tip Vinyl wraps can also help protect the paint on your car from chipping which inevitably leads to water damage and rust over the life of your vehicle!
Powder Coated Wheels
Wheels can take a beating from the road and it's important to protect them. They are also one of the areas on a vehicle that captivates attention and can be used to boost an SUV's overall appeal. A perfect modification for both protection and style is a powder coat finish. It's an easy addition to any vehicle that adds to the durability of your wheels and allows you to have a ton of control over how they're customized without completely swapping them.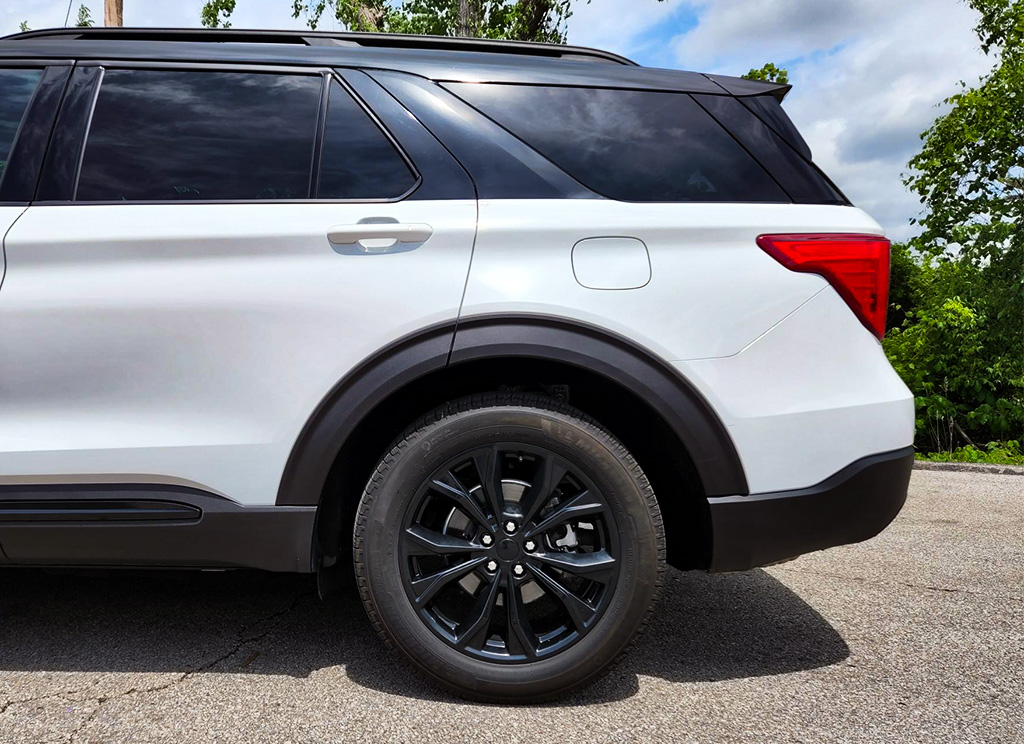 Window Tint
Tinted films are another practical and stylistic addition for your vehicle. This Explorer got a 20% tint on all the back windows while the front windows received a 35% tint. These darker windows create some allure on your vehicle and allow for added privacy. It's worth mentioning Window tint can help protect your interior, your valuables, and you by keeping harsh sunny rays at bay.
Overall, it's a great affordable option to customize your vehicle. When the factory glass on your vehicle doesn't meet expectations, consider getting a window tint.
Pro-Tip These films have a VLT (visual light transference) of 5%, 20%, or 35%. If you've dealt with tint then you should know the lower the number, the darker your tint. Typically the glass of your rear window is darker than other windows on your car.
When you go to select your tint you need to keep in mind your local laws so that you don't get ticketed. We always recommend a professional install for this modification. Poor tint jobs will bubble and discolor over time. Make sure your window tint installer has a good warranty to protect your investment!
---
Do you want to get a Two-Tone wrap or another customization on your vehicle? Visit our website for a quote. We offer professional work backed by the comfort of a warranty all across the contiguous United States!