The Crosstrek is a popular choice for overlanding, off roading, and anyone who wants to inject a bit of adventure into their life. I bet you are one of those adventurous people, and now you're ready to start upgrading your ride.
If you want to elevate your windshield time into an exciting experience you've come to the right place.
We've assembled the top 10 off road upgrades for your new Subaru Crosstrek in no particular order. You're probably not ready for every item on this list, but use this as a guide to start personalizing your new ride.
---
Lift Kit
A 1.5 inch lift kit gives the Crosstrek a wicked stance and enough height for some practical adventuring.
There are several different vendors you could choose from, but Anderson Design Fabrication is our preferred choice for lifts. These kits are made in America by true Subaru die-hards in Oregon. Their shop is located at the base of Mt. Hood, so these guys know how to equip mountain-ready vehicles.
---
LED Headlights
The majority of Crosstreks don't have LED headlights. Upgrading your halogen headlamps to LED is a quick and affordable upgrade for your new car. It's something most Subaru owners can do themselves, and they last much longer than halogen bulbs. Most importantly they provide greater visibility on the trail.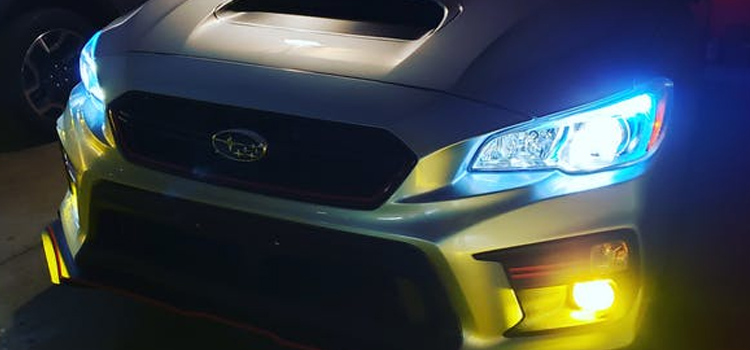 We're fans of the SL1 LED Bulbs from Diode Dynamics. These USA-made LED provide highly focused beam with a TON of output. It's a plug and play application that replaces the factory bulbs. They are typically sold as fog lights, but meet the output requirements for headlight usage.
They're available in multiple strengths and shades so you can customize for your aesthetic and budget.
Pro Tip: "Plug and play" means no splicing or modification of your electrical system!
Wheels & Tires
Your factory wheels aren't going to cut it on the trail and at the campgrounds. You're going to need something more aggressive and all-terrain.
Our favorite combo is the 15″ Method Rally wheel paired with the Cooper Discoverer A/T3 tire. The smaller wheel fits more rubber down below, and the aggressive tread looks great and performs even better.
The wheels are available in a bronze , titanium , or matte black finish. Whichever you choose, you're getting a competition-ready race wheel. Subaru Rally Team USA won a 2014 Rally America Championship on this exact wheel.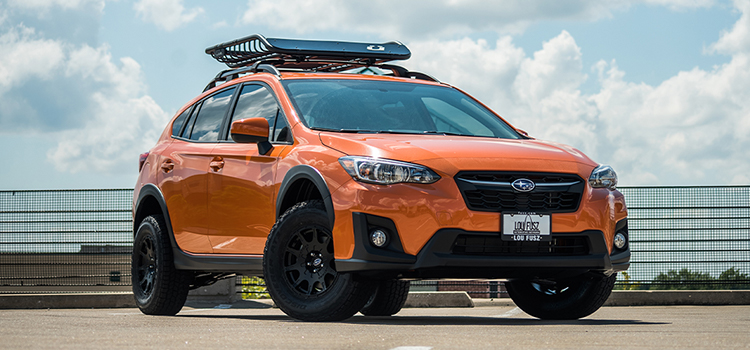 Pro Tip: Reuse your factory Subaru center caps for a slick aftermarket/OEM appearance.
---
Window Tint
Even if your Crosstrek is equipped with factory tinted-glass it will be lacking uniform coverage. Typically the front windows of a new car have very little, or no tinting at all.
Subaru (and every other automaker) do this to abide by state laws. The vehicle could be sold in any state, so they abide by the strictest tint regulations.
If you want all windows to match you can have it applied to the front driver and passenger windows only. This should create uniform coverage around the vehicle.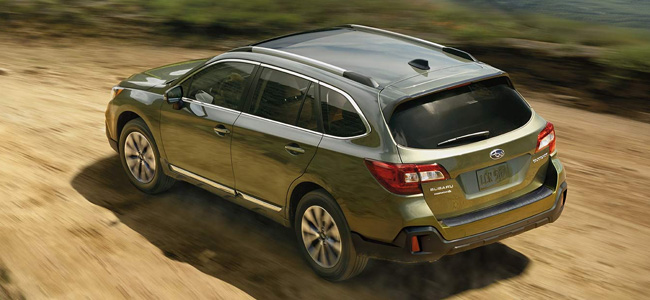 You can also choose to have all the windows tinted to an even darker VLT (visual light transference) level. We use tint with a VLT of 5%, 20%, or 35%. The lower the number, the darker it is.
Whatever you choose, make sure you're aware of the laws in your area.
---
---
Floor Liners
If camping, off roading, or any other outdoor activity is on the menu, it's likely you're going to get a little dirty. Mud spray may be a sweet badge of honor on the side of your new ride, but muddy carpeting isn't as awesome.
Keep the dirt and water off your interior with a quality set of floor liners. Our favorite liners are the American-made WeatherTech Floorliners. They are designed for near-total floor coverage and simple cleanup. For rear hatch protection they also offer Cargo/Trunk Liners.
---
Receiver Hitch
Adding a receiver hitch means you can attach a cargo or bike carrier to the rear of your Crosstrek for maximum carrying capacity.
They come in either 1.25 or 2 inch variants, so make sure you select the size that matches the carrier or hitch ball you intend to use. If you're unsure it's always better to go bigger. There are adapters to make 1.25 inch carriers fit in a 2 inch receiver, but not the other way around.
---
Roof Basket
We offer options from Kuat (koo-at) and Thule (too-lee), neither of which is easy to pronounce.
Our favorite rack is the Kuat Vagabond X. It has a large capacity and is one of the better looking racks on the market. It's a large rack that can be even bigger with their Xtender product. It expands the 52″ long Vagabond X to be 73″ long.
Pro Tip: Don't forget a set of crossbars. These are required to mount your basket.
---
Bumper Guard
A bumper guard is big focal piece that is guaranteed to make you Crosstrek stand apart form the rest.
LP Aventure makes a couple of great bumper guards for Subaru and several other brands. For the 2018-2019 Crosstrek they have a large version with lots of room for auxiliary lighting, or a slimmer version for a less dramatic look.
They come in bare metal or a black powder coat finish. If you choose bare metal we can powder coat it any color you want.
---
Auxiliary Lighting
Light bars and rock lights aren't just for the Jeep crowd. Show your Crosstrek some off road love by giving her some extra illumination.
If you're adding a bumper guard or roof basket you've already got the perfect place to mount them.
You'll want to consider using an SAE compliant light. This allows them to be used on-road and not just off-road. Rigid has some 6 inch LED fog lights that would be a great option to consider.
Leather Seats
Factory leather seats only available in the 2.0i Limited Crosstrek. If you chose any other trim you're likely rocking a cloth interior.
Leather is going to be a better choice for the long-term durability of your vehicle. Katzkin Leather offers OEM-quality leather seats that match your Crosstrek's interior styling.
Not only can you upgrade to leather after the fact, but you can also design it yourself. If you don't fancy designing your own, Katzkin also offers several premade custom designs that are styled to match the Crosstrek.
No matter what design you choose, these are full seat replacements, not seat covers. The cloth upholstery is removed from the factory seat and it is replaced with Katzkin leather.
This post contains affiliate links to products we recommend. If you use these links to buy something we may earn a commission.