For this 2021 Yukon Denali threw out the factory styling with loads of customization through our total chrome delete package. To top it off we used a black GMC light-up emblem to catch more attention on the road. This whole SUV has been covered in a snowy white with a few black accents for good measure. Check out each modification and get more build info in the rest of the article.
Front End Changes
We painted the Denali grille to match the Summit White body of this beast. This has a major visual impact on the build and immediately sets it apart from every other Yukon on the road. We also deleted the chrome fog and grille surrounds with body-matched Summit White paint.
We followed that up by upgrading the badging. We pulled off the factory grille emblem and replaced it with the illuminated emblem.
This badging is available straight from GM. It provides a black appearance in the daytime and an illuminated glow at night. This is one of my personal favorite upgrades you can make to most modern GM vehicles. The cost to impact ratio on this one is weighted in your favor. For a few hundred bucks you get a killer look with a killer warranty.
Exterior Changes
We pulled off the side GMC vent accents and painted them gloss black. The remaining nameplates and badges on the vehicle were also swapped to their black counterparts.
We painted the rear bumper, door handles, bodyside molding, and roof rails white to continue the color-match aesthetic.
We applied a ceramic coating to the entire exterior of the SUV. Our Ceramic Solutions service gives you that signature high gloss look and hydrophobic behavior for your vehicle. It also gives a 5-years of protection from the natural elements.
Wheels & Brake Calipers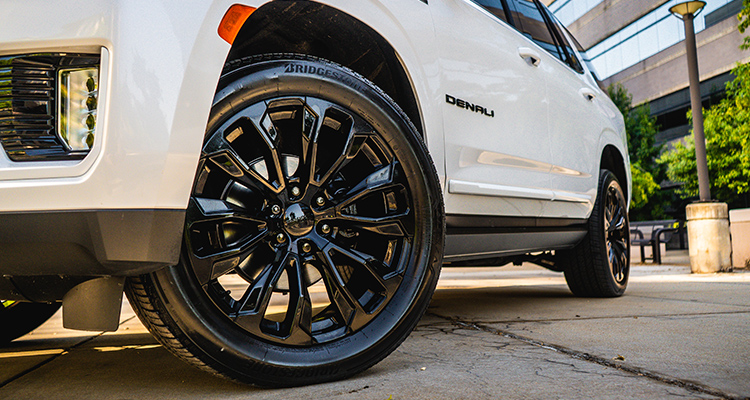 This Denali was sporting the factory option 22-Inch machined aluminum wheels. There's no reason to throw these out, so we brought them into the powder booth to give them a gloss black appearance. This keeps them performing as an OEM wheel should, and gives you a look that you won't find anywhere on the road.
Powder coating is a more durable finish than standard paint with just as many color options available to you.
Behind these we also painted the brake calipers to share the gloss black finish. This protects them from corrosion and gives you a clean look. We have a lot of swatches to choose from, so if you want yours to pop you can choose a color like red or yellow. This is a great way to standout without shelling out for an aftermarket brake kit.
Potential Addons
For a radical interior transformation, you could add white diamond-stitch Katzkin leather seats. White seats are not for the faint of heart, but it would give this Denali some serious head turns.
---
Interested in a blackout or chrome delete build of your own? We offer free pickup and delivery across the contiguous United States. Learn more