After you've found the perfect Kia EV6 the next step is to start making it your own. Finding the best Kia EV6 mods and upgrades to personalize your ride can difficult! Luckily, we have loads of experience customizing cars, trucks, and SUVS so we can help you discover some accessory options. This guide has Kia EV6 accessories that every owner should consider when they start to improve their electrified ride.
Vinyl Roof Wrap
Roof wraps are a really cool way to alter the exterior of your Kia EV6. Installing a vinyl roof wrap creates a look that not many cars have where it splits the color scheme. This custom Urban Yellow EV6 got a rich gloss black roof wrap to complement its bold color scheme. As you can see installing a roof wrap creates a slim and compressed look to the vehicle which accentuates the EV6's modern styling.
Chrome Delete
Almost every Kia model has chrome trim or emblems and a chrome delete can be used to change their look. Chrome deletes blackout the chrome accents with paint, replacement parts, or a vinyl wrap. It's a styling trend that has continued to grow in popularity over the years. In fact, vehicle manufacturers like Ford offer complete blackout trim packages on vehicles like their 2023 black appearance Maverick.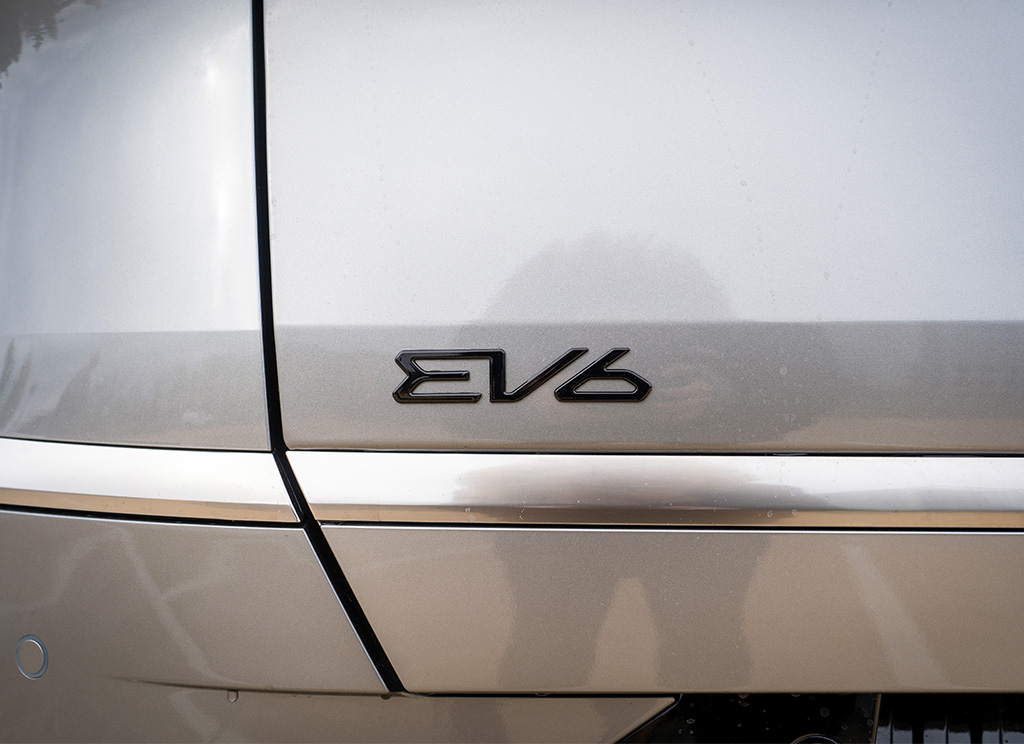 So why is black trim so popular? Having complete blackout trim creates a cleaner look that's muted and more modern compared to factory chrome. The blackout emblems in these photos comes from a metallic gray chrome delete EV6 we worked on. There is also an easy and customizable fix for chrome emblems in the next section.
Emblem Overlays
For a quicker and less permanent way of customizing your emblems you can use a vinyl Kia emblem overlay. With these overlays you can create a blackout or add a pop of color to your ride. The best advantage of using an overlay is that they can be simple to remove if you want to change color or stop using them. You won't need to worry about quality auto overlays leaving any damage or sticky adhesive making them a good modification to consider.
We believe your car should be unique to you, so we offer some of these overlays to help you change your emblems whichever way you want. They are made from quality automotive vinyl that's fully customizable to any color or pattern. What makes them easy to use is the vinyl's unique low initial tac and air release that allows it to easily peel back up, move around, and smooth out air bubbles before placement.
For a flawless install by yourself we also created instructional videos. Other overlays you might get from websites like Etsy won't have these benefits and can be trickier to apply. Our overlays help you personalize your car and save some money by doing it yourself!
Custom Wheels
Besides trim and emblems another key area to customize on your vehicle is the wheels. Here you have two options; you can buy a whole new wheel design, or you can get a powder coat finish on your current wheels. When a powder coating is applied to the wheels it allows you to completely customize their color while adding another layer of protection against road rash and chemicals. Black powder coated wheels are typically the go to, but bronze and white are other popular options!
Painted Calipers
If you've seen the GT version of the Kia EV6 then you'll recall how strong its bright green calipers standout! Painted calipers are a great pairing with custom wheels that can be used to add a pop of color. Painting this part adds depth to the cars design making it more interesting to look at. When you customize both the calipers and wheels of your EV6 it will have some sporty new shoes that make it standout from all the others!
Rocker Panel Stripes
Since the EV6 is such a new car there aren't very many aftermarket accessories available yet. This Geometric EV6 rocker panel graphic is one of the few ways you can add to your EV6's styling. Rocker panels impart a touch of design to the vehicles outward appearance and help to fill the large blank space on the sides of your vehicle with artwork. The geometric design on the rocker panels is intended to complement the stylistic elements on the EV6's interior and exterior area by the taillights.
Window Graphics
Window graphics are a more subtle way to add designs to your EV6. You can use these graphics to emphasize a certain character like topographic patterning for adventuresome travelers. We designed a circuitry quarter glass window graphic to showcase the electrical aspects of this model. If you want to learn important knowledge about using these decals checkout our auto glass guide blog.
Window Tint
Applying a window tint film can really improve your EV6's comfort and style. Window tint protects your interior, your valuables, and most importantly you from the sun's rays. In addition, slightly darker windows create a mysterious allure while adding more privacy. There is an option to get an eyebrow tint at the top edge of the windshield to keep more of the sun out of your eyes too. This helps you maintain a good visual while you're driving during sunrise or sunset.
Your EV6 has factory tinted glass already, but it's not very dark and doesn't cover the front windows. Most often the front windows of a new car have very little, or no tinting at all. Kia (along with every automaker) does this to abide by state laws. They adhere to the strictest auto tinting regulations of states, that way the vehicle can be sold in any state. If you want all windows to match you can have a tinted film applied to the front driver and passenger windows only.
You can also choose to have all the windows tinted to an even darker VLT (visual light transference) level. We use tint film with a VLT of 5%, 20%, or 35%. The lower the number, the darker it is. Whichever direction you go make sure you're aware of the laws in your area.
It's a good idea to have a professional install for this modification. Poor tint jobs will bubble and discolor over time. Make sure your window tint installer has a good warranty to protect your investment!
Floor Liners
You are doing yourself a really big favor when you upgrade to floor liners. If you still haven't picked up a rubber floor liner it's one of the best accessories for protecting your car's interior. The carpet is delicate, and the carpet mats don't offer great coverage as they shift around. Kia has floor liners they offer, but WeatherTech FloorLiners offers better coverage and more durability.
We recommend just about any liner from amazon, like this Motor trend universal liner, over a generic mat or bare carpet. In addition to the floor liners, you can also find cargo liners for the trunk space. These liners will keep dirt, liquids, and other debris from getting embed into you carpet. If you like quick and simple cleanups, then floor liners are right for you.
We hope that this was helpful to you as you consider creating your own Kia Telluride build! These upgrades and accessories are sure to give your vehicles appearance and performance a boost.
---
This post contains an affiliate link to products we recommend. If you use these links to buy something we may earn a commission.
To see all Kia EV6 customization options look at our CATALOG.
Interested in a custom build, blackout, or chrome delete for yourself? We offer pickup and delivery across the contiguous united states. Learn More