We did it. We bought an old truck. Seems like every gear head ends up doing it at some point in their life. For our company it came at the age of 41.
Now our plan is to restore this truck to its glory days and get it back on the road. It's actually the old truck of a late friend, and with the help of his family, we tracked down the current owner of the truck and bought it off them. Now it sits in our shop ready for its new lease on life.
Our ultimate goal is to have a truck that's functional, attention-grabbing, and most importantly, awesome. One important point we want to focus on is involving the feedback and thoughts of our community and clients. We're sharing this project with you as we go, and we want you to influence our decision-making. Make sure you're checking in on this page often, and follow us on Facebook and Instagram for updates!
This post contains affiliate links to products we recommend. If you use these links to buy something we may earn a commission.
We're posting updates as they happen below:
---
4/23/21 Update #18 : Headlights, Taillights & Interior
Our last update showed off our hot new sound system, which is now fully installed. The speakers are looking extra clean now hidden behind our refinished door cards.
In addition to our fresh door cards, we've also bolted in the seat and part of the dashboard. With this sea of fresh blue leather, this Ranger is beginning to show its true colors. It's crazy to think how far the interior has come since our first look at it!
Moving to the exterior of the Ranger, we've tossed out our old headlights and taillights in place of something a bit more modern. Up front we've added LED headlights for increased night visibility. Around back we've got some OEM style taillight housings with new bulbs.
With Summer creeping up on us quicker than expected, we're hoping to have the Ranger out on the streets of St. Louis soon!
3/19/21 Update #17 : Starting to Install The Sound System
Since our last update about a month ago, not much has changed. We've been in the process of relocating and upgrading our shop space which has left the Ranger project on the back burner.
We left off with our sound system parts finally arriving, and more recently, we finally got it all installed (and trust me, this thing BUMPS).
We kicked things off with replacing our door speakers with the Kicker KSS650's we mentioned last post. These didn't want to fit nicely with the existing cutout though, so we had to do some trimming.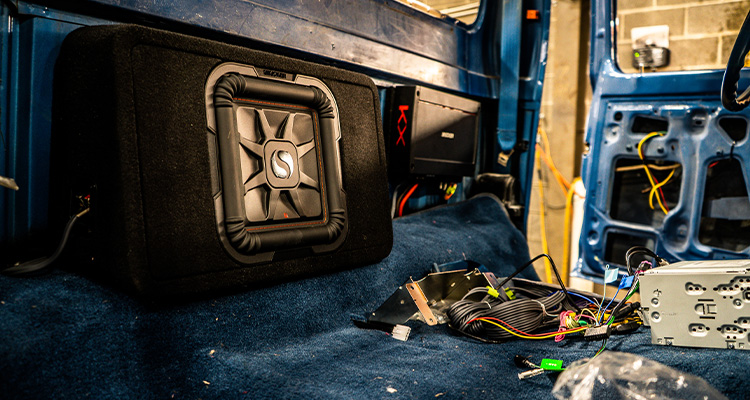 Moving towards the back of the cab and you'll notice our Kicker 10″ Solo-Baric Truck Enclosure sub woofer and Kicker KXA800.5 amplifier. Since our ranger is a single cab, saving space is essential.
We opted to install them behind the factory bench seat so that it doesn't look too out of place. Doing this will also allow us to keep the interior of the Ranger as comfortable as possible!
We're currently finishing up the installation by adding our Kicker KSC350 speakers and wiring it all up to our Kenwood's DMX9707S double din head unit.
2/12/21 Update #16 : Our Sound System
With the exterior of the Ranger mostly complete (as of our last update), we've had time to start zoning in on the nitty gritty of our project truck. Among our company, a new sound system was one of the most requested upgrades, so we're delivering on that.
To start off our sound system, we had to modify the dashboard bezel a bit. Since we opted for a double din head unit (more on that later), having a clean fit and finish was one of our top priorities. It's honestly pretty amazing how well the head unit bezel blended in with the other black trim on the Ranger dashboard.
Moving onto the brain of our new sound system, we opted for Kenwood's DMX9707S. This head unit offers a ton of features like Apple CarPlay, Android Auto, 4 camera inputs, and a whole lot more. Not to mention that it's 6.95″ WVGA Monitor also looks great!
Before we can talk about the speaker system we opted for, we should talk about our amplifier. We went with the Kicker KXA800.5 because of its dependability, clarity, and power output.
The KXA800.5 an 800-watt package with a five channel amplifier, which is going to help a ton running our all new speaker system. It also includes a 400-watt sub-woofer channel (wink wink).
Onto our speakers. Starting things off we opted for the Kicker KSS650 as the center of our sound system. The Kicker KS series offer concert-like volume, while also keeping things smooth and un-distorted.
Beyond the KSS650 we also picked up some of the smaller Kicker KSC350 speakers to accompany. These should help smooth out the highs for a more balanced sound system.
The cherry on top to our all new sound setup is the Kicker 10″ Solo-Baric Truck Enclosure sub woofer. With a killer design, and the option for usage in a sealed or ported enclosure, this sub should make our sound system complete.
We've still got to install all of our goodies, but as soon as we've got them installed we'll be one step closer to completing our project Ranger. This build has been a long time coming, and it's awesome to see the fine details get the love they deserve!
1/29/21 Update #15 : Major Body Panels Put On
We last left off with the seats, and dashboard back from refinishing, and showing off the painted door jambs. This time around we've got all of the major body panels painted and put back on!
If you've been following this build for a while, you no doubt are aware of the rust we had to fight for weeks. With several long days we've finally got (most) of the major body panels looking better than new!
The fresh coat of paint is going to serve as a great base for the vinyl graphics we'll eventually be adding over top, to make this 84' Ranger come to life!The blue on this Ranger POPS.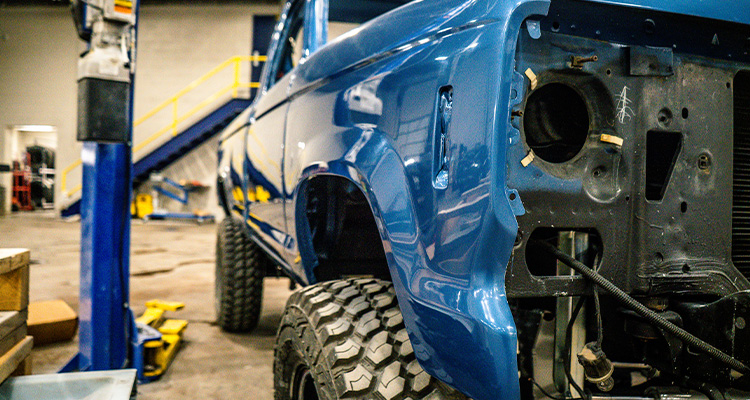 The photos don't do a justice to how nice this blue looks in the light!
The bed was the main source of rust trouble throughout this build and it's pretty astonishing to see the difference between some of our previous updates!
We've still got a fair bit of work to do on this Ranger, I mean, we haven't even gotten it on the roads yet! With more parts on the way, and our shop crew working away, we're inching closer and closer to completion every day.
1/22/21 Update #14 : Dashboard, Seats, & Paint Work
Since last week's update quite a bit has happened. From the door jambs to the dashboard, we've got a fair bit to talk about so let's get right into it.
To kick things off our paint booth has sprayed the door jambs of our project Ranger to match the rest of the body panels. Our paint booth has been killing it with the finish of the paint on the Ranger. We've just got the rest of the cab, and front fenders before the paint work will be complete.
After the paint we'll then be adding some vinyl stripes over top to complete the livery.
In addition to some paint work we also got our seats refinished. We opted for a blue and silver color combination to match the rest of the truck.
We had a local upholsterer re-wrap these seats as well as refinish the dashboard to match.
The diamond pleats on the bench seats really make the silver pop in person. The photos truly don't do them justice. The original bench seat was in surprisingly good condition for its age, but since we've gone this far on the build, we figured we might as well go all in for the interior too.
To keep the leather refinishing going, we also got our dashboard back from being restored. The dashboard (like the rest of the interior) was in pretty good condition when we bought this 1984 Ford Ranger but since the seats were being re-done the original dashboard color would not match.
With the leather on the interior looking brand new, and the paint work continuing, this ranger is so close to being done we can almost taste it. The saying goes though, it ain't over till the Ford Cologne V6 sings.
1/13/21 Update #13 : Painting the Bed & Tailgate
We've finally got the bed completely finished! Well, not quite yet. But it's painted and just about ready to be thrown back onto the frame of our project Ranger!
Our body shop and paint booth have absolutely crushed it so far with this build, and the proof is in the pudding (or the bed I guess). In addition to the bed, we also finished up the tailgate (minus any emblems and bolt ons).
We plan on adding some spray in bed-liner to protect the bed of this Ranger since we'll be using it as a shop truck (and a show truck from time to time).
As soon as we've got the cab painted and finished, we're still planning to add some graphics over top. In case you missed it, our first update was centered around the color and design we would be going with.
The plan as of now is to stick to the original two tone design of the Ranger, with a vinyl stripe going down the entire body of the truck.
1/4/21 Update #12 : Front Suspension and Dashboard
Since our last update we've been absolutely swamped with the holidays and new year. With the holiday season came several parts delivery delays, but we've finally began work on two of the biggest components to this build!
We've applied the "go big or go home," mentality to the suspension of this Ranger and went all out with a 4′ lift kit from Rough Country. This suspension package should give us a ton of additional breathing room for whenever we take this thing off-roading!
On top of the suspension upgrades, we're also planning on throwing a body lift on this beast at some point in the near future.
In addition to the suspension we also sent off the dashboard to a local specialist to have the dash completely refurbished and restored.
The dashboard is one of the most important aspect of any vehicle build since it's essentially the user interface of your vehicle. Most people probably spend more time looking at their dashboard than they even realize. Because of this we're making it a high priority to get right.
After what felt like decades, 2020 is finally over, and we're hoping to have this build wrapped up this Spring. We've still got quite a bit of work to go but we're finally getting to see what our vision looks like in the flesh!
12/16/20 Update #11 : Painting & Body Work
With the holiday season in full swing, we haven't had as much time to work on our project Ranger as we would like. Don't worry though we've still got some spicy stuff to show off from our paint booth!
With our bed almost complete we've begun to focus our attention on the front fenders. The front fenders didn't have any rust (thankfully), so all that needed to be done was dent repair and primer.
Soon they'll be getting a fresh coat of paint to match the hood and doors we just did.
We're finally getting to see the first real look at how the color is going to look on the truck. We've painted both the driver and passenger side doors, as well as the hood.
To wrap up this update, we spent some time sand blasting the old paint off of the calipers, and re-finishing them with a heat resistant gloss black paint.
12/7/20 Update #10 : Finishing Up Bodywork
We've done the impossible! All of the rust has finally been removed from the bed of this 1984 Ford Ranger. It actually wasn't too ridiculously hard, just a couple of patch panels and some elbow grease.
Luckily for us there's a plentiful supply of patch panels first generation Rangers. When considering a project build (especially if you're in the rust belt like us), one huge thing to consider is whether or not patch panels are available. You can definitely make your own, but it just creates additional headache.
While our body shop was hard at work, we spent some time refinishing parts of our Dana 28 front axle. For the first four years of production, the Ranger came with the Dana 28 front axle, before adopting the Dana 35 starting in 1990. Unfortunately for us, the Dana 28 has a lot less aftermarket support than the 35.
Day by day, piece by piece, the Ranger is finally being put back together. With the bed finally rust free, we should have this beauty looking like a truck again in no time. We've still got a lot of work ahead, but we're finally being able to see it all come together.
11/30/20 Update #9 : Putting The Cab On
It's been a couple of weeks since our last update but we've still been plugging away on our project Ranger. We've done a ton of body work to the cab and finally will be putting it back on the frame.
During the engine refresh we had our body shop tackling the cab of this Ranger. After every last bit of rust dealt with we decided to get the cab back onto the frame.
We can't wait to get the body of this Ranger looking as good as the engine! During the course of the body work we've also decided that we'll be painting the Ranger instead of doing a full vinyl wrap.
Since we'll be doing a full paint job on this 84′ Ranger we can always decide at a later date to wrap it. We are however still planning to do some custom decals on this ranger, just not a full color change wrap.
With the cab finally back on this build is starting to look like a truck again. We're all ready for this Ranger to be complete but we've still got a ways to go. As with any vehicle project though, we'll likely never be done making changes to this one (even after it's completely put back together).
11/13/20 Update #8 : Painted Drivetrain / More Rust
The drivetrain has been buttoned up and is looking like new! If you couldn't tell by now, the main build color is Ford Blue with Silver accents (which we'll definitely be using on other parts than the drivetrain.
We've got suspension parts on the way which we're excited to get on this chassis. It'll be nice to not hear every squeak and creak possible when we roll the chassis through our shop.
We're chugging along in the body department, but have ran into some more rust on the bed than we would've liked to. This definitely puts a bit of a dent in our plans (couldn't think of a quality rust pun).
After cutting off a part of the bed for our patch panels we noticed a pretty significant amount of rust. We had thought that the bed was in pretty great condition but the further we go, the more rust we fin.
With how far we've come this small hiccup isn't going to be stopping us any time soon. You have to expect set-backs like this to come up when doing any major project. We're ready to see this Ranger in all of its restored glory soon!
11/06/20 Update #7 : Engine Rebuild, and Painting
Since our last update quite a bit has happened. we've torn the engine apart, put it back together, and painted it. In addition to the engine work we finally got around to painting the frame black and more.
For a couple of days the Ford Cologne engine spent it's time being inspected for any issues, and replacing parts when necessary. Once our team had gotten a chance to get the motor up to speed mechanically, we decided to go ahead and make it look brand new. That Ford blue really pops!
Whenever we picked up this Ranger a couple of months ago, it burnt oil like a diesel engine. Funny enough the Ranger actually had an option for a Mitsubishi diesel engine. The primary cause of this seemed to be bad valve seals (which we have since replaced).
With the frame completely naked, we decided now was the right time to give it a fresh coat of paint. We cleaned up the surface rust and used some POR-15 Gloss Black Rust Preventative Paint. This stuff works with or without removing surface rust, but we figured extra some diligence couldn't hurt.
We've also still been hard at work repairing the rust plaguing the cab and bed of this 84′ Ranger. There's a bit more than we initially anticipated. Ultimately, we're not too concerned with the rust since patch panels are (almost) always readily available for the first-gen Ranger.
It's only a matter of time now before we get this Ranger back on the road. We're currently finalizing our decision for a suspension package. What good is a nice looking truck if it can't even handle, right?
10/30/20 Update #6 : Pulling The Engine
After several days of waiting, we've finally yanked out the 1984 Ford Cologne V6 engine from our Ranger.
With the engine out, we can begin tearing into the engine, replacing any broken components. Once we've gone through everything, we'll be painting the engine Ford blue, and silver. It'll be nice to have fresh gaskets in this engine so we aren't leaking oil all over our engine bay or freshly painted motor.
Also, we can finally pull the cab off of the chassis. We're thinking we'll be painting the frame black for a sleek look, and to increase protection against infamous Midwest rust.
The past 35+ years have taken it's toll on the original engine and we're dying to get it looking (and feeling) better than new.
10/20/20 Update #5 : The Engine Plan
We've decided after countless hours of heated debate (not really, it took about 15 minutes), to re-use the original engine that came with this 84′ Ranger.
Even though we're re-using the original Ford Cologne V6, we're going to make sure this engine is solid inside and out. To make digging into this motor easier, we're going to need to pull the engine out. We also want the engine out so that we can spice it up with some new paint!
We'll also be taking the cab off so that we can give the frame a protective layer of paint (after cleaning up surface rust).
The plan as of right now is to check all of the internal components, and make any necessary repairs. We'll also definitely be replacing all of the gaskets (to get rid of leaks), and a full carburetor rebuild.
10/14/20 Update #4 : Bodywork Continues
We've spent some time prepping the doors for new mirrors. We had to fill the holes left behind from the original mirrors.
If you've been keeping up to date with this build, it's no secret that the bed of the Ranger is in need of some TLC. We just got our patch panels to repair the rusted out sheet metal.
From the start we weren't sure if we would replace the entire bed, or repair the original. After talking to our body-shop experts, we decided that repairing the original would be cheaper. We also couldn't find any suitable donors in the area.
We're getting closer and closer to finishing up the body work every day. It feels like just the other day we rolled this 84′ Ranger into our shop with no real direction on what the plan was.
10/05/20 Update #3 : Repairing The Body
We've been busy wrenching away on the Ranger since our last update. Our guys have spent a ton of time over the past week taking care of all the dents and dings.
The doors that came with this Ranger were a little bit rusty and crusty if we're being honest. We considered repairing the rust damage but found this mint set of doors from an 85′ Ranger. We went ahead and picked them up off of Facebook Marketplace.
Speaking of the bed, we took it off! We're having our body shop take care of all the rust and dents on the bed. Don't worry though, we're not leaving the rear end of this Ranger naked.
We've still got a long way to go with this Ranger before we're finished, and there are still some big additions to add. The plan as of right now is to add a lift kit, swap the mirrors, and give it a full vinyl wrap! We've also got some things up in the air such as interior, side steps, and fender flares.
---
10/01/20 Update #2 : Color Voting Results
The results were much closer than we expected. The full blackout idea and the classic blue and chrome tied at 31% of the vote. Blue with black trim edged them out at 38% of the total vote. This is a pretty even split on the choices, which means they are all valid route we could take.
We're agreeing with you and moving forward with the blue exterior with black trim pieces idea. There won't be any chrome on this build, but we still have several more style choices ahead of us.
The current plan is to wrap the truck rather than repainting it. The build team has been tossing around some ideas to change the stripe on the side, and our wrap film color book is getting passed around like gravy at the Thanksgiving day table. We've had countless color comparisons and debates on which finish and hue to run with. Hopefully we'll know before Thanksgiving…more on that in the next updates.
---
9/22/20 Update #1 : Finding Direction – Voting on Color
As we continue tinkering with the mechanical components and figuring out what we have, we thought it would be a good time to figure out the direction we want to go with this Ranger build. We've formed an internal team to head up this project and we just had our first "official" meeting.
We quickly realized the dilemma in front of us–there's no limits. It might seem counterintuitive, but the fact that we have no real restrictions on the project means it's difficult to pick a direction. We've spent decades cultivating a space and team that's capable of nearly anything we throw at them, so where do you start?
The color, that's where.
We put together three different concepts on the color/theme. Check them out below, then head to our Facebook or Instagram posts to vote!
Visit our Facebook or Instagram posts to vote on your favorite.